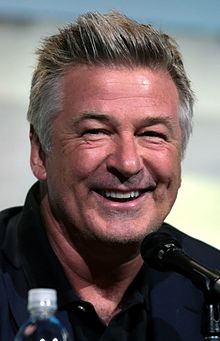 Want to know the best Alec Baldwin movies?  How about the worst Alec Baldwin movies?  Curious about Alec Baldwin box office grosses or which Alec Baldwin movie picked up the most Oscar® nominations? Need to know which Alec Baldwin movie got the best reviews from critics and audiences? Well you have come to the right place….because we have all of that information.
Alec Baldwin (1958-) is an Oscar®-nominated American actor who has been appearing in motion pictures, television and on the stage for close to 40 years.  His IMDb page shows 124 acting credits from 1983-2017.  In the table below Ultimate Movie Rankings ranks 60 of his movies in 6 different sortable columns.  Television roles, cameos, shorts and straight to dvd movies were not included in the rankings.
Drivel part of the page:  Recently it seems everywhere I turn there is Mr. Alec Baldwin.  From Saturday Night Live (playing Donald Trump)  to The Boss Baby (my little kids begged us to see this movie) to Paris Can Wait (his second movie currently in theaters) to his newly released book Nevertheless to phone conversations with my children.  Recently BryRog57 (son #1) pointed out that there was no Alec Baldwin UMR page….well BryRog57…..that is no longer the case!
Alec Baldwin

Movies Can Be Ranked 6 Ways In This Table
The really cool thing about this table is that it is "user-sortable". Rank the movies anyway you want.
Sort

Alec Baldwin

movies by co-stars of his movies
Sort

Alec Baldwin

movies by adjusted domestic box office grosses using current movie ticket cost (in millions)
Sort

Alec Baldwin

movies by yearly domestic box office rank or trivia
Sort

Alec Baldwin

movies how they were received by critics and audiences.  60% rating or higher should indicate a good movie
Sort by how many Oscar® nominations and how many Oscar® wins each

Alec Baldwin

movie received.
Sort

Alec Baldwin

movies by Ultimate Movie Rankings (UMR) Score.  UMR Score puts box office, reviews and awards into a mathematical equation and gives each movie a score.
Stats and Possibly Interesting Things From The Above Alec Baldwin Table
Seventeen

Alec Baldwin

movie crossed the magical $100 million domestic gross mark.  That is a percentage of 28.33% of his movies listed. Pearl Harbor (2001) is his biggest box office hit.
An average

Alec Baldwin

movie grosses $66.10 million in adjusted box office gross.
Using RottenTomatoes.com's 60% fresh meter.  31 of

Alec Baldwin

's movies are rated as good movies…or 51.66% of his movies.  Glengarry Glen Ross (1992) is his highest rated movie while The Juror (1996) is his lowest rated movie.
Thirteen

Alec Baldwin

movies received at least one Oscar® nomination in any category…..or 21.66% of his movies.
Eight

Alec Baldwin

movies won at least one Oscar® in any category…..or 13.33% of his movies.
An average Ultimate Movie Ranking (UMR) Score is 40.00.  23

Alec Baldwin

movie scored higher that average….or 38.33% of his movies. The Departed (2006) got the the highest UMR Score while Forever Lulu (1987) got the lowest UMR Score.
Possibly Interesting Facts About Alec Baldwin
1. Alexander Rae Baldwin III was born in Amityville, New York in 1958.

2. Alec Baldwin was the oldest of 6 children.  He has 3 brothers and 2 sisters.  All 3 of his brothers are actors.  Combined the Baldwin brothers have over 400 IMDb credits.  Alec (120 credits), Daniel (128 credits), Stephen (101 credits) and William (70 credits).
3. Alec Baldwin was nominated for a Best Supporting Actor Oscar® for 2003's The Cooler.  The same year he picked up a Worst Supporting Actor Razzie® for Cat In The Hat….that was only the third time that it had happened.

4. Alec Baldwin's favorite actor of all-time is…..William Holden.  His favorite movie is 1973's Last Tango In Paris.
5. For two consecutive years, Alec Baldwin played the screen husband of the Best Actress Oscar® winner: Cate Blanchett in 2013's Blue Jasmine  and Julianne Moore in 2014's Still Alice.

6. Alec Baldwin was nominated 7 times for a Golden Globe® Best Actor for the television show 30 Rock.  He won three times.

7. Alec Baldwin based the tone and delivery of his legendary 7 minute speech in 1992's Glengarry Glen Ross on the George C. Scott "Wars are won.." speech found in 1970's Patton.

8.  Alec Baldwin has been married two times. His first marriage to actress Kim Basinger.  His second marriage is to Hilaria Lynn Thomas.  He has 4 children.
9.  Roles Alec Baldwin turned down or was seriously considered for: Harrison Ford role in Patriot Games, Michael Keaton role in Batman, Kurt Russell role in Vanilla Sky, Val Kilmer role in Batman Forever, Patrick Swayze role in Ghost, Russell Crowe role in The Insider, Kevin Costner role in JFK, and Guy Pearce role in Memento.
10.  Check out Alec Baldwin's career compared to current and classic actors.  Most 100 Million Dollar Movies of All-Time.

Academy Award® and Oscar® are the registered trademarks of the Academy of Motion Arts and Sciences. 
If you do a comment….please ignore the email address and website section.
296 total views, 0 views today
(Visited 3,612 times)