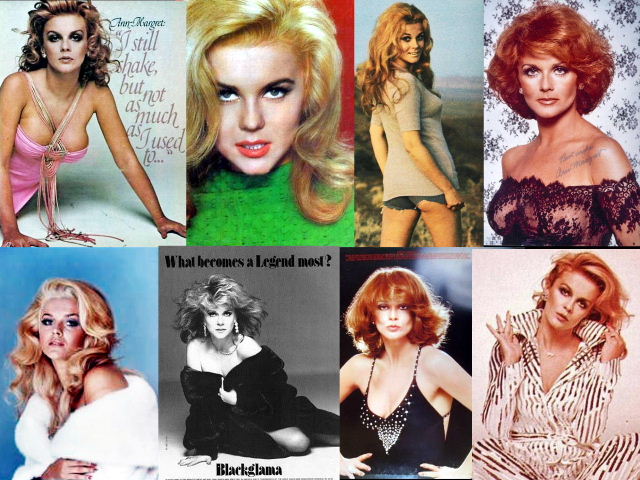 Want to know the best Ann-Margret movies?  How about the worst Ann-Margret movies?  Curious about Ann-Margret box office grosses or which Ann-Margret movie picked up the most Oscar® nominations? Need to know which Ann-Margret movie got the best reviews from critics and audiences? Well you have come to the right place….because we have all of that information.
Ann-Margret (1941-) is a Swedish-American Oscar® nominated actress, singer and dancer.  Her singing and acting careers span six decades and should reach seven decades! Ann-Margret's IMDb page shows 83 acting credits from 1961-2017. This page will rank 38 Ann-Margret movies from Best to Worst in six different sortable columns of information. Television shows, movies that were not released in North American theaters and movies that did not reach at least $1 million in box office rentals were not included in the rankings.  To do well in our overall rankings a movie has to do well at the box office, get good reviews by critics, be liked by audiences and get some award recognition.
Drivel part of the page:  This page was requested by Richard a very long time ago.  It has been awhile since we have heard from Richard…..but we hope that he will see that we finally got around to doing his requested Ann-Margret movie page.
Ann-Margret Movies Can Be Ranked 6 Ways In This Table
The really cool thing about this table is that it is "user-sortable". Rank the movies anyway you want.
Sort Ann-Margret movies by co-stars of her movies
Sort Ann-Margret movies by adjusted domestic box office grosses using current movie ticket cost (in millions)
Sort Ann-Margret movies by domestic yearly box office rank
Sort Ann-Margret movies by how they were received by critics and audiences.  60% rating or higher should indicate a good movie.
Sort by how many Oscar® nominations and how many Oscar® wins each Ann-Margret movie received.
Sort Ann-Margret movies by Ultimate Movie Ranking (UMR) Score.  UMR Score puts box office, reviews and awards into a mathematical equation and gives each movie a score.
Blue link in Co-star column takes you to that star's UMR movie page
Stats and Possibly Interesting Things From The Above Ann-Margret Table
Thirteen Ann-Margret movie crossed the magical $100 million domestic gross mark.  That is a percentage of 35.13% of her movies listed. Carnal Knowledge (1971) is her biggest box office hit.
An average Ann-Margret movie grosses $69.90 million in adjusted box office gross.
Using RottenTomatoes.com's 60% fresh meter.  15 of Ann-Margret's movies are rated as good movies…or 46.45% of her movies.  The Cincinati Kid (1965) is her highest rated movie while Old Dogs (2009 is her lowest rated movie.
Six Ann-Margret movies received at least one Oscar® nomination in any category…..or 16.21% of her movies.
Zero Ann-Margret movies won at least one Oscar® in any category…..or 0.00% of her movies.
An average Ultimate Movie Ranking (UMR) Score is 40.00.  14 Ann-Margret movie scored higher that average….or 30.30% of her movies. Carnal Knowledge (1971) got the the highest UMR Score while Memory (2006) got the lowest UMR Score.
Possibly Interesting Facts About Ann-Margret
1. Ann-Margret Olsson was born in Valsjöbyn, Jämtland County, Sweden in 1941.
2. Ann-Margret was discovered by George Burns when she was performing at The Dunes in Las Vegas.
3.  Ann-Margret won the Golden Globe® for Best Newcomer for her first movie….1961's A Pocketful of Miracles….she played Bette Davis' daughter.
4.  Ann-Margret was nominated for 2 Oscars®.  She was nominated for Best Supporting Actress in 1971's Carnal Knowledge and for Best Actress in 1975's Tommy….both movies also starred Jack Nicholson.

5.  Ann-Margret Is one of five Swedish actresses to be nominated for an Academy Award®. The others are Greta Garbo, Ingrid Bergman, Lena Olin and Alicia Vikander. The only Swedish actor to be nominated is Max von Sydow.
6.  Ann-Margret was chosen by Empire magazine as one of the 100 Sexiest Stars in film history..she finished 10th in their poll.
7.  Ann-Margret had two Billboard Club Play charting hits: in 1979 with "Love Rush" which climbed to #8, and in 1980 with "Midnight Message" that peaked at #12.
8.  Ann-Margret has been married one time.  She has been married to Roger Smith since 1967.

9.  Ann-Margret's cumulative totals:  Adjusted domestic box office:  $2.58 billion.  Her movies received 10 Oscar® nominations.
10.  Roles Ann-Margret was strongly considered for or ones she turned down:  Faye Dunaway role in Bonnie and Clyde, Jane Fonda role in Cat Ballou, Katharine Ross role in The Graduate, Natalie Wood role in Gypsy and Jessica Lange role in The Postman Always Rings Twice.
Check out Ann-Margret's career compared to current and classic actors.  Most 100 Million Dollar Movies of All-Time.
Academy Award® and Oscar® are the registered trademarks of the Academy of Motion Arts and Sciences.  Golden Globe® is a registered trademark.
For comments….all you need is a name and a comment….please ignore the rest.
670 total views, 0 views today
(Visited 15,253 times)