Want to know the best Anne Bancroft movies?  How about the worst Anne Bancroft movies?  Curious about Anne Bancroft box office grosses or which Anne Bancroft movie picked up the most Oscar® nominations? Need to know which Anne Bancroft movie got the best reviews from critics and audiences and which got the worst reviews? Well you have come to the right place….because we have all of that information.
Anne Bancroft (1910-1990) was an Oscar®-winning American stage, film and television actress.   IMDb page shows 86 acting credits from 1931-2005. This page will rank 48 Anne Bancroft movies from Best to Worst in six different sortable columns of information.  Her many television appearances, her movies not released in North American theaters and a few 1950s movies are not included in our rankings.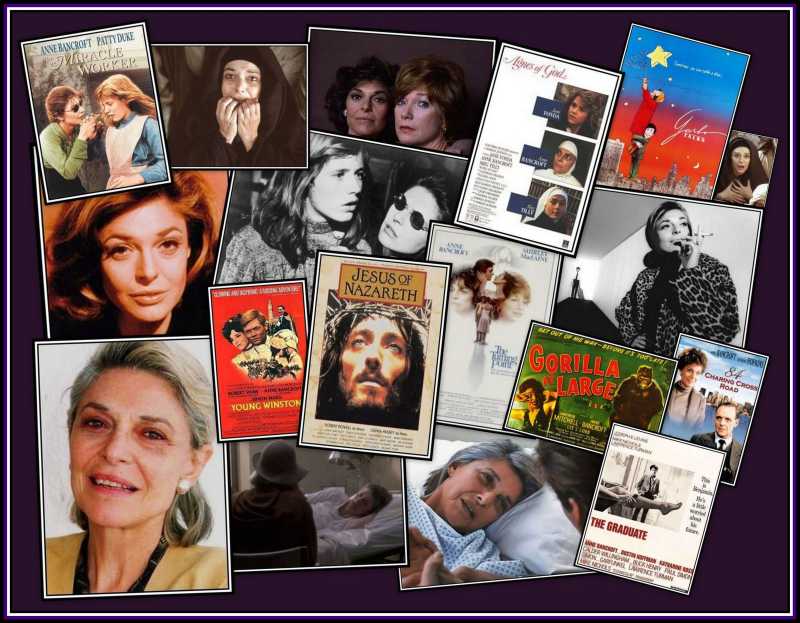 Anne Bancroft Movies Can Be Ranked 6 Ways In This Table
The really cool thing about this table is that it is "user-sortable". Rank the movies anyway you want.
Column One is the name of the Anne Bancroft movie and the link for the trailer for that movie
Sort Anne Bancroft films by co-stars of her movies
Sort Anne Bancroft films by adjusted domestic box office grosses using current movie ticket cost (in millions)
Sort Anne Bancroft films by yearly domestic box office rank
Sort Anne Bancroft films by how they were received by critics and audiences.  60% rating or higher should indicate a good movie.
Sort by how many Oscar® nominations and how many Oscar® wins each Anne Bancroft film received.
Sort Anne Bancroft films by Ultimate Movie Rankings (UMR) Score.  UMR Score puts box office, reviews and awards into a mathematical equation and gives each movie a score.
Anne Bancroft Movies Can Be Ranked 6 Ways In This Table
The really cool thing about this table is that it is "user-sortable". Rank the movies anyway you want.
Six Anne Bancroft movies crossed the magical $100 million domestic gross mark.  That is a percentage of 12.50% of her movies listed.  The Graduate (1967) was her biggest box office hit.
An average Anne Bancroft movie grossed $69.20 million in adjusted box office gross.
Using RottenTomatoes.com's 60% fresh meter.  28 Anne Bancroft movies are rated as good movies…or 58.33% of her movies.  The Elephant Man (1980) was her highest rated movie while Delgo (2008) was her lowest rated movie.
Ten Anne Bancroft movies received at least one Oscar® nomination in any category…..or 20.83% of her movies.
Two Anne Bancroft movies won at least one Oscar® in any category…..or 4.16% of her movies.
An "a good movie" Ultimate Movie Ranking (UMR) Score is 60.00.  20 Anne Bancroft movies scored higher than that….or 41.66% of her movies.  The Graduate (1967) got the the highest UMR Movie Score while Delgo (2008) got the lowest UMR Movie Score.
Possibly Interesting Facts About Anne Bancroft
 Anna Maria Louisa Italiano was born in the Bronx, New York City in 1931.
2.   After appearing in a number of live television dramas under the name Anne Marno, Anne Bancroft was told (by Darryl F. Zanuck) to change her surname for her film debut in 1952's Don't Bother to Knock.
3.   Anne Bancroft made her Broadway debut opposite Henry Fonda in 1958's Two for the Seesaw.  She won a Tony® for the role.  In 1960 she win another Tony®….this time for playing Annie Sullivan, the young woman who teaches the child Helen Keller to communicate in The Miracle Worker
4.   In 1962, Anne Bancroft got to play Annie Sullivan on the big screen.  This time she won a Best Actress Oscar® for The Miracle Worker.
5.  Anne Bancroft and The Graduate.  (1) Bancroft was only 6 years older than Dustin Hoffman when they made the movie.  (2) The movie's line "Plastics." was voted as the #42nd best movie quote by the American Film Institute.  (3) In his review, Roger Ebert called the songs by Simon & Garfunkel "unmemorable"…he got that one wrong.  (4) Bancroft said that for many years after doing the movie, young men would tell her that she was the first woman they had sexual fantasies about.  (5) When looking at the all-time adjusted box office hits….The Graduate is currently the 22nd biggest movie.
6.   Anne Bancroft got the Mrs. Robinson role and made film history in 1967's The Graduate……here are some of the other actresses that were considered for or interested in the role:  Claire Bloom, Joan Crawford, Doris Day, Angie Dickinson, Sophia Loren, Judy Garland, Rita Hayworth, Susan Hayward, Anouk Aimée, Jennifer Jones, Patricia Neal, Deborah Kerr, Eva Marie Saint, Rosalind Russell, Simone Signoret, Jean Simmons, Lana Turner, Eleanor Parker, Anne Baxter, and Shelley Winters.
6A.  Since we have a list of possible Mrs. Robinsons…..how about a list of actors that were considered for the Dustin Hoffman role?  Warren Beatty, Keir Dullea, Robert Duvall, Harrison Ford, Charles Grodin, George Hamilton, Albert Finney, Gene Wilder, Steve McQueen, Jack Nance, Anthony Perkins, Robert Redford, Robert Wagner, and Jack Nicholson were all considered for the part of Benjamin Braddock.  I think a Harrison Ford/Joan Crawford casting would have been very interesting.
7.  Anne Bancroft was married 2 times and had one child.
8.  Anne Bancroft and Mel Brooks.  (1) Brooks was Bancroft's 2nd husband.  (2) They were married from 1964 to her death in 2005.  (3)  They met on the set of a talk show, and Mel later paid a woman who worked on the show to tell him which restaurant Anne was going to eat at that night so he could "accidentally" bump into her again and strike up a conversation. (4) They were married at New York City Hall, where a passer-by served as their witness. (5) Mel, Anne and their son, Max are all Emmy® winners.

9.  Anne Bancroft She is one of the few thespians to win the Triple Crown of acting. Oscar®: Best Actress, The Miracle Worker (1962), Tonys®: Best Supporting Actress-Play, "Two for the Seesaw" (1958) and Best Actress-Play, "The Miracle Worker" (1960), and Emmy®: Best Supporting Actress-Miniseries/Movie, Deep in My Heart (1999).
10. Check out Anne Bancroft's movie career compared to current and classic stars on our Most 100 Million Dollar Movies of All-Time page.
Steve's Anne Bancroft You Tube video goes very well with this page.
Academy Award® and Oscar® are the registered trademarks of the Academy of Motion Arts and Sciences.  Golden Globes® are the registered trademark and service mark of the Hollywood Foreign Press.
674 total views, 0 views today
(Visited 1 times)