Want to know the best Ava Gardner movies?  How about the worst Ava Gardner movies?  Curious about Ava Gardner's box office grosses or which Ava Gardner movie picked up the most Oscar® nominations? Need to know which Ava Gardner movie got the best reviews from critics and audiences and which ones got the worst reviews? Well you have come to the right place…. because we have all of that information and much more.
Ava Gardner (1922-1990) was an American actress, who the American Film Institute ranked as one of the Top 50 Screen Legends of all time.  Gardner for many years was considered to be the most beautiful woman in the world. Gardner is ranked as the 25th best actress, right behind #24 Mary Pickford.  One of our goals is to do a movie page on all 50 Screen Legends.  After completing this page we have now written movie pages on 42 (or 84%) of those performers……leaving only 6 actresses and 2 actors that still need movie pages.  Speaking of Mary Pickford….we are actually working on a Pickford movie page.  However when we were researching box office information on Pickford from 1909 through 1919 ….we got lost….we got confused…..we got scared and we came running back to doing a Gardner page.  One day we will figure out how to write a comprehensive movie page on Mary Pickford….but until then we hope you enjoy this Ava Gardner movie page.

Her IMDb page shows 69 acting credits from 1941-1986. This page will rank 40 Ava Gardner movies from Best to Worst in seven different sortable columns of information.  Uncredited roles, bit parts, shorts and television appearances were not included in the rankings.
Ava Gardner Movies Can Be Ranked 6 Ways In This Table
The really cool thing about this table is that it is "user-sortable". Rank the movies anyway you want.
Sort Ava Gardner movies by the year the movie was made
Sort Ava Gardner movies by co-stars of her movies
Sort Ava Gardner movies by adjusted domestic box office grosses using current movie ticket cost.
Sort Ava Gardner movies by domestic yearly box office rank
Sort Ava Gardner movies by how they were received by critics and audiences.  60% rating or higher should indicate a good movie.
Sort by how many Oscar® nominations and Oscar® wins each Ava Gardner movie received.
Sort Ava Gardner movies by Ultimate Movie Ranking (UMR) Score.  UMR puts box office, reviews and awards into a mathematical equation and gives each movie a score.
Use the sort and search buttons to make this table very interactive.  For example…if you type in "Clark Gable" in the search box….the 3 Gardner/Gable movies will pop right up.
Stats and Possibly Interesting Things From The Above Ava Gardner Table
Sixteen Ava Gardner movies crossed the magical $100 million domestic gross mark.  That is a percentage of 40.00% of her movies listed. Earthquake (1974) was her biggest box office hit.
An average Ava Gardner movie grosses $107.70 million in adjusted box office gross.
Using RottenTomatoes.com's 60% fresh meter.  21 of Ava Gardner's movies are rated as good movies…or 52.50% of her movies.  The Killers (1946) was her highest rated movie while City on Fire (1979) was her lowest rated movie.
Thirteen Ava Gardner movies received at least one Oscar® nomination in any category…..or 32.50% of her movies.
Three Ava Gardner movies won at least one Oscar® in any category…..or 7.50% of her movies.
An average Ultimate Movie Ranking (UMR) Score is 40.00.  22 Ava Gardner movies scored higher that average….or 55.00% of her movies.  The Hucksters (1947) got the the highest UMR Movie Score while City on Fire (1979) got the lowest UMR Movie Score.
Possibly Interesting Facts About Ava Gardner
1. Ava Lavina Gardner was born in Grabtown, North Carolina in 1922….she was a Christmas Eve baby.

2. Ava Gardner was nominated for one acting Oscar®…Best Actress for Mogambo (1953) and one acting Golden Globe®….Best Actress for Night of the Iguana (1964).
3. Ava Gardner's biggest box office hit was 1974's Earthquake.  Earthquake is also one of her least liked movies by critics and audiences.  In our 23,000 movie database it is one of the biggest box office hits with the lowest critic audience rating.  It joins all the Transformers movies and Armageddon in that strange club.
4. Ava Gardner was continuously under contract at MGM from 1941-1958.

5. Ava Gardner's own singing voice was used in her breakthrough role in The Killers (1947).  Much to her disgust…MGM dubbed her voice in the rest of her MGM movies.
6. According to the American Film Institute, Ava Gardner is the 25th greatest female star of all-time.
7. Ava Gardner was married three times in her life but did not have any children.  All three of her marriages were very much in the public eye….the Angelina Jolie of the 1940s and 1950s?  Her first marriage was to actor Mickey Rooney from 1942 to 1943.  Her second marriage was to singer Artie Shaw from 1945-1946.  Her third and final marriage was to Frank Sinatra from 1951-1957. Her three husbands were eventually married to a total of 20 brides between them.

8. Our favorite Ava Gardner quote comes from Louis B. Mayer.  He said….. "She can't talk, she can't act, she's terrific".

9. Ava Gardner turned down or was seriously considered for these roles:  Elizabeth Taylor role in Cleopatra, Elizabeth Taylor role in Cat On A Hot Tin Roof, Doris Day role in Love Me or Leave Me, Capucine role in The Pink Panther and Geraldine Page in Sweet Bird of Youth.
10. Check out Ava Gardner's movie career compared to current and classic stars on our Most 100 Million Dollar Movies of All-Time page.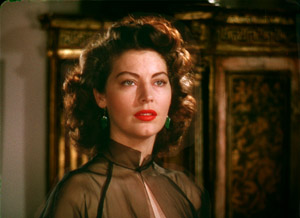 America Film Institutes' Top 25 Screen Legend Actress and UMR's Links That Rank All Of Their Movies.
12. Claudette Colbert
17. Lillian Gish
19. Rita Hayworth
23. Carole Lombard
24. Mary Pickford
Academy Award® and Oscar® are the registered trademarks of the Academy of Motion Arts and Sciences.  Golden Globes® are the registered trademark and service mark of the Hollywood Foreign Press.
293 total views, 0 views today
(Visited 13,893 times)