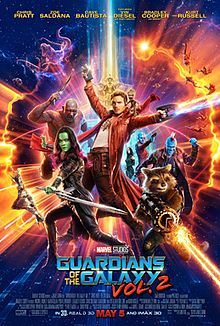 Want to know the best Chris Pratt (1979-) movies?  How about the worst Chris Pratt movies?  Curious about Chris Pratt's box office grosses or which Chris Pratt movie picked up the most Oscar® nominations? Need to know which Chris Pratt movie got the best reviews from critics and audiences and which ones got the worst reviews? Well you have come to the right place….because we have all of that information.
In January 2014….I bet not too many movie fans were really aware of Chris Pratt.  Now after starring in three straight box office hits (The LEGO Movie, Guardians of the Galaxy and Jurassic World)….everybody NOW knows Chris Pratt.  So with Jurassic World putting up record opening weekend numbers…I figured it would be a good time to take a look at his career so far.
His IMDb page shows 44 acting credits from 2000-2017. This page will rank 18 Chris Pratt movies from Best to Worst in six different sortable columns of information. Television shows, shorts, cameos and movies that were not released in North American theaters were not included in the rankings.
Chris Pratt Movies Can Be Ranked 6 Ways In This Table
The really cool thing about this table is that it is "user-sortable". Rank the movies anyway you want.
Sort by Chris Pratt's co-stars of his movies.
Sort Chris Pratt movies by adjusted domestic box office grosses using current movie ticket cost (in millions)
Sort Chris Pratt movies by adjusted worldwide box office grosses using current movie ticket cost (in millions)
Sort Chris Pratt movies how they were received by critics and audiences.  60% rating or higher should indicate a good movie.
Sort by how many Oscar® nominations and how many Oscar® wins each Chris Pratt movie received.
Sort Chris Pratt movies by Ultimate Movie Rankings (UMR) Score.  UMR Score puts box office, reviews and awards into a mathematical equation and gives each movie a score.
Use the search and sort buttons to make this page very interactive.
Stats and Possibly Interesting Things From The Above Chris Pratt Table
Six Chris Pratt movies crossed the magical $100 million domestic gross mark.  That is a percentage of 33.00% of his movies listed. Jurassic Park (2015) is his biggest hit.
An average Chris Pratt movie grosses $111.20 million in adjusted box office gross
Using RottenTomatoes.com's 60% fresh meter.  11 of Chris Pratt's movies are rated as good movies…or 61.11% of his movies.  Guardians of the Galaxy (2014) is his highest rated movie while Movie 43 (2013) was his lowest rated movie.
Seven Chris Pratt movies received at least one Oscar® nomination in any category…..or 38.88% of his movies.
Two Chris Pratt movies won at least one Oscar® in any category…..or 11.11% of his movies.
An average Ultimate Movie Ranking (UMR) Score is 40.00.  9 Chris Pratt movies scored higher than that average….or 50.00% of his movies.  Guardians of the Galaxy (2014) got the the highest UMR Score while Movie 43 (2013) got the lowest UMR Score.
Possibly Interesting Facts About Chris Pratt
1. Christopher Michael Pratt was born in Virginia, Minnesota.

2.  Chris Pratt's path to stardom…Cliff Notes Style.  While waiting tables at the Bubba Gump Shrimp Company was discovered by actress Rae Dawn Chong.  She cast him in a short horror film she was directing.  This led to some minor television roles (Everwood) before being cast in the television show Parks and Recreation.  Originally his role was supposed to be a temporary character…but Pratt worked his way into becoming a series regular and fan favorite.  While his television career was going strong his movie career was filled with supporting roles. That all changed when he got the Starlord role in Guardians of the Galaxy.  His career currently reminds me of how Harrison Ford's career started.  Rumor has it that he might even play Indiana Jones in the future.
3. Chris Pratt appeared in a Best Picture Oscar® nominated film three straight years.  In 2011 he was in Moneyball….in 2012 he was in Zero Dark Thirty….and in 2013 he was in Her.

4. Chris Pratt has been married one time.  He has been married to actress Anna Faris since 2009.  They have one child.

5. Chris and his wife, Anna Faris, each had a dead bug collection before they met and they have since combined their collections.

6. Chris Pratt gained 60 pounds for his role in Delivery Man (2013).

7. Chris Pratt auditioned but did not get the Jake Sully role in Avatar or the Captain Kirk role in Star Trek.
8. Check out Chris Pratt's career compared to current and classic actors.  Most 100 Million Dollar Movies of All-Time.
Academy Award® and Oscar® are the registered trademarks of the Academy of Motion Arts and Sciences. Golden Globes® are the registered trademark and service mark of the Hollywood Foreign Press.
If you do a comment….please ignore the email address and website section.
423 total views, 0 views today
(Visited 15,815 times)