Want to know the best Eleanor Powell movies?  How about the worst Eleanor Powell movies?  Curious about Eleanor Powell box office grosses or which Eleanor Powell movie picked up the most Oscar® nominations? Need to know which Eleanor Powell movie got the best reviews from critics and audiences and which got the worst reviews? Well you have come to the right place….because we have all of that information.
Eleanor Powell (1912-1982) was an American dancer and actress.  Her solo tap numbers in musical movies in the 1930s and 1940s were very popular. Her IMDb page shows 15 acting credits from 1930-1953. This page will rank 13 Eleanor Powell movies from Best to Worst in six different sortable columns of information. Her one television and one uncredited role were not included in the rankings.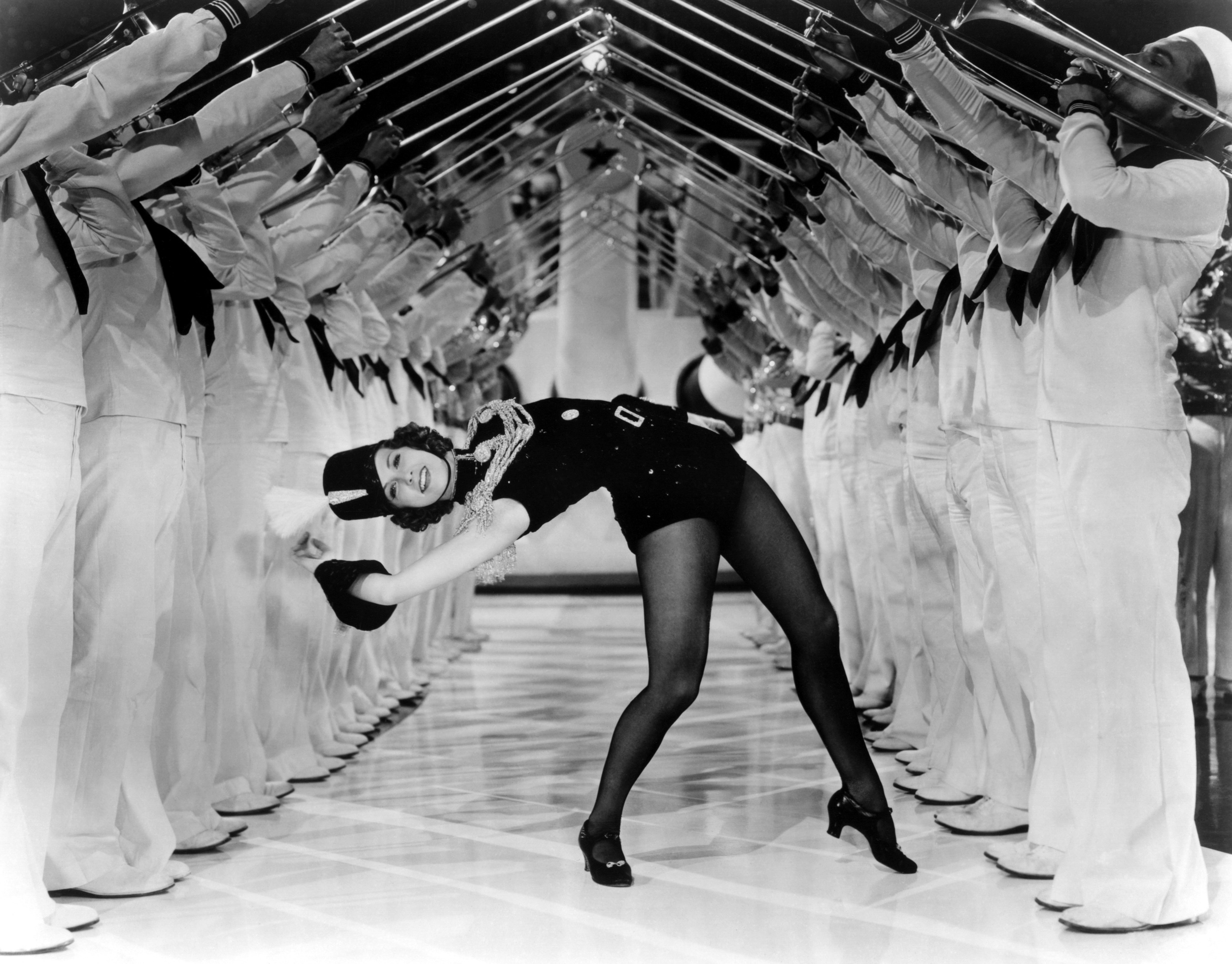 Eleanor Powell Movies Can Be Ranked 6 Ways In This Table
The really cool thing about this table is that it is "user-sortable". Rank the movies anyway you want.
Sort Eleanor Powell films by co-stars of her movies
Sort Eleanor Powel films by adjusted domestic box office grosses using current movie ticket cost (in millions)
Sort Eleanor Powel films by yearly domestic box office rank
Sort Eleanor Powel films by how they were received by critics and audiences.  60% rating or higher should indicate a good movie.
Sort by how many Oscar® nominations and how many Oscar® wins each Eleanor Powel film received.
Sort Eleanor Powell films by Ultimate Movie Rankings (UMR) Score.  UMR Score puts box office, reviews and awards into a mathematical equation and gives each movie a score.
CreditRank
Movie (Year)
UMR Co-Star Links
Review %
Oscar Nom / Win
S
UMR Score
CreditRank
Movie (Year)
UMR Co-Star Links
Actual B.O. Domestic (mil)
Adj. B.O. Domestic (mil)
Adj. B.O. Worldwide (mil)
B.O. Rank by Year
Review %
Oscar Nom / Win
S
UMR Score
1
Broadway Melody of 1936 (1935)


AA Best Picture Nom

Robert Taylor &
Jack Benny
4.70
170.4
295.6
6
75
03 / 01
97.7
2
Born To Dance (1936)
James Stewart
5.40
188.2
278.3
11
70
02 / 00
93.3
3
Thousands Cheer (1943)
Gene Kelly &
Donna Reed
10.70
309.0
484.9
7
63
03 / 00
92.6
4
Broadway Melody of 1938 (1937)
Judy Garland &
Robert Taylor
7.60
251.4
378.7
9
63
00 / 00
91.7
5
Rosalie (1937)
Nelson Eddy &
Frank Morgan
7.80
259.0
383.1
7
54
00 / 00
88.8
6
Ship Ahoy (1942)
Red Skelton
5.20
156.0
213.7
35
60
00 / 00
85.2
7
Honolulu (1939)
Robert Young &
George Burns
5.40
167.0
167.0
26
55
00 / 00
84.6
8
Duchess of Idaho (1950)
Esther Williams &
Van Johnson
8.10
146.8
218.1
13
60
00 / 00
83.9
9
Broadway Melody of 1940 (1940)
Fred Astaire
2.80
87.2
87.2
57
75
00 / 00
81.5
10
Lady Be Good (1941)
Red Skelton &
Robert Young
3.40
104.5
169.3
66
62
01 / 01
78.2
Stats and Possibly Interesting Things From The Above Eleanor Powell Table
Ten Eleanor Powell movies crossed the magical $100 million domestic gross mark.  That is a percentage of 76.92% of her movies listed.  Her biggest hit was Thousands Cheer (1943).
An average Eleanor Powell movie grosses an average of $159.50 million in adjusted domestic gross.
Using RottenTomatoes.com's 60% fresh meter. 9 Eleanor Powell movies are rated as good movies…or 69.23% of her movies.  Broadway Melody of 1940 (1940) was her highest rated movie while I Dood It (1943) was her lowest rated movie.
Five Eleanor Powell movies received at least one Oscar® nomination in any category…..or 38.96% of her movies.
Two Eleanor Powell movies won at least one Oscar® in any category…..or 15.38% of her movies.
An average Ultimate Movie Rankings (UMR) Score is 40.00. 11 Eleanor Powell movies scored higher than that average….or 84.61% of her movies. Broadway Melody of 1936 (1935) got the the highest UMR Score while George White's 1935 Scandals (1935) got the lowest UMR Score.
Possibly Interesting Facts About Eleanor Powell
Eleanor Torrey Powell was born in Springfield, Massachusetts in 1912.
2.  Eleanor Powell and her dancing skills were discovered when she was 11 years old.  At 17, she was appearing on Broadway and was named " "the world's greatest tap dancer".
3.  Eleanor Powell headed to Hollywood in 1935 and quickly became one of the biggest movie stars of the late 1930s and 1940s.
4.  Eleanor Powell considered 13 to be her lucky number.  Her name is 13 characters long and she starred in 13 movies.
5.  Fred Astaire considered Eleanor Powell as the best of his many dancing partners.  Her last public appearance was with Astaire when she received an AFI lifetime award in 1981.
6.  After retiring from movies, Eleanor Powell hosted the children's show The Faith of Our Children.  She won numerous Emmy® awards for her work on that show.
7.  Though she worked with Fred Astaire and Gene Kelly….she considred Bill Robinson the most talented dancer that she ever worked with.
8.  Eleanor Powell was married one time.  She was married to actor, Glenn Ford from 1943 to 1959. They had one son, Peter Ford.  The godparent's of Peter were…..Bill Robinson and Pearl Bailey.  (this last fact comes from Paul Brogan)
9.  Unlike most other film dancers of her day, Eleanor Powell did not use a choreographer but devised all her own numbers. Consequently, although she danced with some of the best dancers of her era, his most memorable performances were in solos.
10.  Check out Eleanor Powell's career compared to current and classic actors.  Most 100 Million Dollar Movies of All-Time.
Academy Award® and Oscar® are the registered trademarks of the Academy of Motion Arts and Sciences.
16 total views, 7 views today
(Visited 1,025 times)