Back in 1988 I created a list of my favorite movies.  I often go back and look at that list and wonder…."What was I thinking?".  So in 2017 I figured it was time to list my current favorites.  So here are my current Top 100 movies.  This are movies that I watch and re-watch.  There are lots better movies out there…..but I have no interest in viewing movies like Schlinder's List more than once  One Flew Over The Cuckoo's Nest is an incredible movie but talk about a downer of a movie.
Finally…I admit it….my favorite three actors are Cary Grant, Michael Caine and Bruce Willis.  They are well represented on this list.  These pictures were made possible but an awesome website.   Their setup is so easy…..even I can create the following pictures.  Highly recommend PhotoJoiner.  Alright, enough talking let's take a look at my favorites…..just remember when you see a questionable movie…"Beauty is in the eye of the beholder."

The Crime Movies (8 Movies)
The Godfather (1972)….movie has everything you want in a movie.  Great performances, great characters, memorable dialogue, famous scenes and a lasting legacy.  The highest rated movie in our UMR database.
Goodfellas (1990)…..yes this one is very violent…..but what a movie.  The second best mafia movie ever made…..only The Godfather tops this movie….in my humble opinion.
Léon:The Professional (1994)…awesome action….but it is the relationship between Natalie Portman (her first role) and Jean Reno that make this movie so special.  One of our Top 5 All-Time child performances.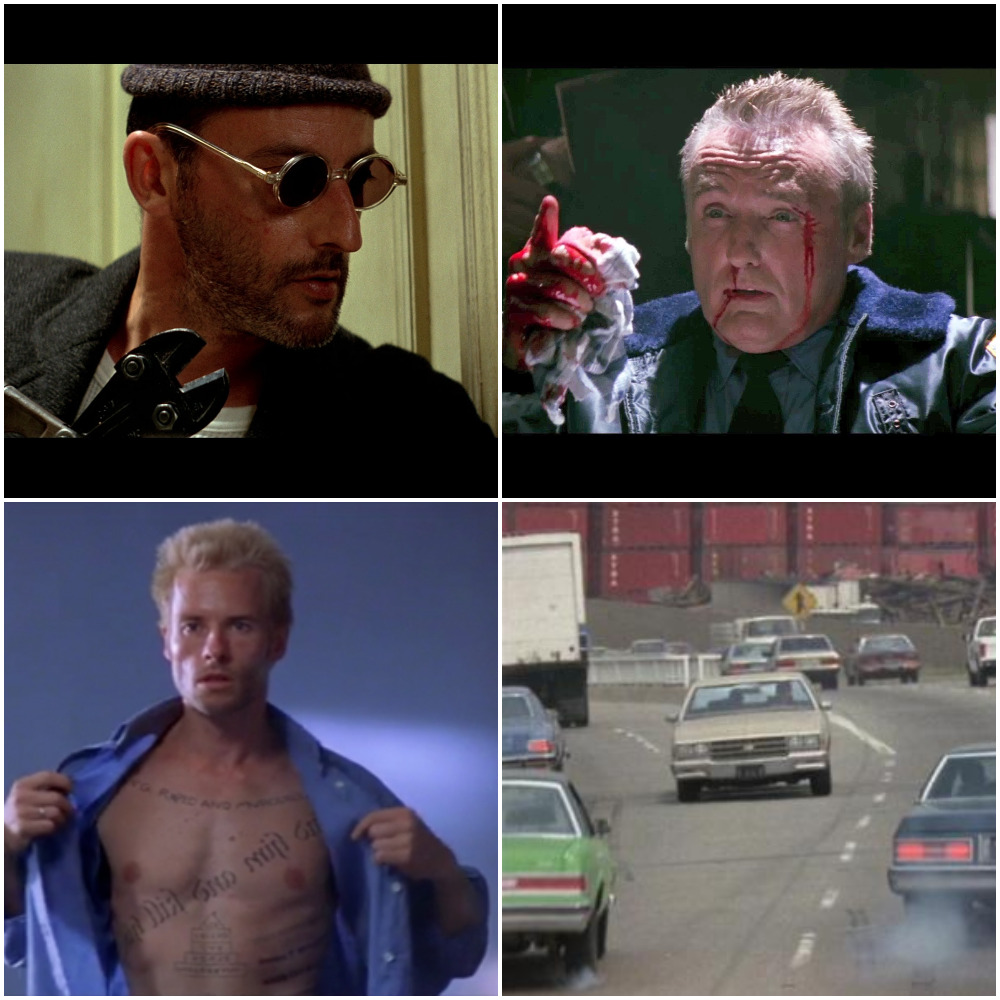 The Maltese Falcon (1941)….this was and still is a great movie…Humphrey Bogart creates a great screen character…the supporting cast of Sydney Greenstreet, Mary Astor and Peter Lorre gets better every year.
Memento (2000)….the movie that made Christopher Nolan a superstar director.  One of the most unique movies ever made.  A puzzle that is always fun to put together again.
Miller's Crossing (1990)….easily our favorite Coen Brothers movie.  The Albert Finney "Danny Boy" scene is all-time favorite scene.  Love getting the "high hat".
To Live And Die In L.A. (1985)…the stunts are incredible, William L. Petersen is fantastic as a "break all rules" secret service agent, Willem Dafoe makes a good villain and the music is perfect for the time era.
True Romance (1993)….very violent…but what a cast.  The Dennis Hopper/Christopher Walken confrontation is a "must watch" movie scene.
 
The Westerns (7 Movies)
The Big Country (1958) ….this western has everything you want in a movie.  Big stars (Gregory Peck, Charlton Heston) wonderful performances, beautiful locales and one of the greatest screen fights ever.  So glad I discovered this movie a few years ago.
Butch Cassidy and the Sundance Kid (1969)….the movie that made Robert Redford a superstar.  Paul Newman and Redford made a great screen team.  Seen this movie close to 100 times.  Simply one of the best ever.
El Dorado (1967)….I know other John Wayne movies (The Searchers, Rio Bravo, Red River, The Man Who Shot Liberty Valence…just to name a few) are considered greater….but the Wayne movie I re-watch the most is this one…with Red River coming in a close second.  Added bonus…you get a movie directed by Howard Hawks.  Added added bonus.. Robert Mitchum and a very young James Caan as Wayne co-stars.
The Good, The Bad and The Ugly (1966)….Sergio Leone's masterpiece.  Love the music.  Eastwood is awesome as The Good……but Eli Wallach steals the show as Tuco (The Ugly).  I watch this movie about every 12 or 13 months…heck just talking about it makes me want to watch it right now.
My Name Is Nobody (1974)…..love the Ennio Morricone soundtrack…..love the screen chemistry between Henry Fonda and Terrence Hill.  Hill makes a fine replacement for Clint Eastwood and Charles Bronson.  As close to a Sergio Leone western as you can get.
Tombstone (1993)….one of the two best westerns made in the last 50 years…a loaded cast that offers up one great screen line after another…."I'm your huckleberry…",  "You tell 'em I'M coming… and hell's coming with me, you hear?…",  "You gonna do somethin' or just stand there and bleed?"….I could go on forever but I think you get the point.
Unforgiven (1992)….the other top western of the last 50 years…..Clint Eastwood's masterpiece.  One of the few times the Academy actually gave the Best Picture Oscar to the right movie.  One of my favorite lines in movies comes from this movie.  The Kid "Well…I guess he had it coming." Clint…"Kid…we all got it coming."

The Cary Grants (7 Movies)
The Awful Truth (1937)….Cary Grant and Irene Dunne made a great screen couple, this was their first of three movies together. Grant is hilarious in the movie. Movie was nominated for a Best Picture Oscar® and won the director, Leo McCarey an Oscar® for Best Director.
Charade (1963)…..Cary Grant and Audrey Hepburn team up in this almost Hitchcock like movie. Is Grant the good guy or the bad guy? A great supporting cast in James Coburn, George Kennedy and Walter Matthau.
Father Goose (1964)…Father Goose is a movie can I watch again and again. Grant is stuck on an island with a school teacher (Leslie Caron) and her 7 students (all girls) during World War II. Great lines throughout this movie.
My Favorite Wife (1940)….his second movie with Irene Dunne and another classic. Dunne is assumed to have perished in a boat sinking seven years ago, she is rescued and returns home just as Grant remarries….and then the fun begins.
North by Northwest (1959) ….Grant's fourth and final film with Alfred Hitchcock…. great scenes throughout the movie like the crop dusting plane, the auction scene and of course the Mount Rushmore finale.
Notorious (1946)….Grant's 2nd movie with Alfred Hitchcock….a spy thriller that gets better with each new viewing.  One of the best final scenes….as Grant bluffs his way past Claude Rains. Classic!
The Philadelphia Story (1940)….Grant and Katharine Hepburn made 4 movies together…this by far is their best movie together….and yet James Stewart is the one that won the Oscar® for this movie…..this movie gets better every year.

The Fantasies (9 Movies)
Deadpool (2016)….love this movie.  Granted I tried to stay away from recent movies on this list…as it is amazing how a movie can change in your eyes as time pass.  But…currently….right this second….this movie is in my Top 100.
Excalibur (1981)….one of the best movies about the King Arthur legend….you have to watch this movie on Blu-Ray…..all the DVDs of this movie are horrible quality…I still think this is a great movie but now think the final third of the movie seems to drag….but the first 2/3 of the movie are still great.
Guardians of the Galaxy (2014) ,,,,the second youngest movie on my list…..I wonder if it will keep aging well….just re-watched it a few days ago….and I still was very entertained.  Chris Pratt reminds me of a young Harrison Ford…can he keep it up?
Lord of the Rings: The Two Towers (2002)…..I love the Lord of the Rings trilogy…..but The Two Towers is the only chapter of that franchise that I re-watch on a regular basis.
It's A Wonderful Life (1946)….one of the few classic movies to make the list….but I thought and still do think this is one of the best movies ever made…..James Stewart in one of his better roles….and look…. it is almost time to watch the movie again.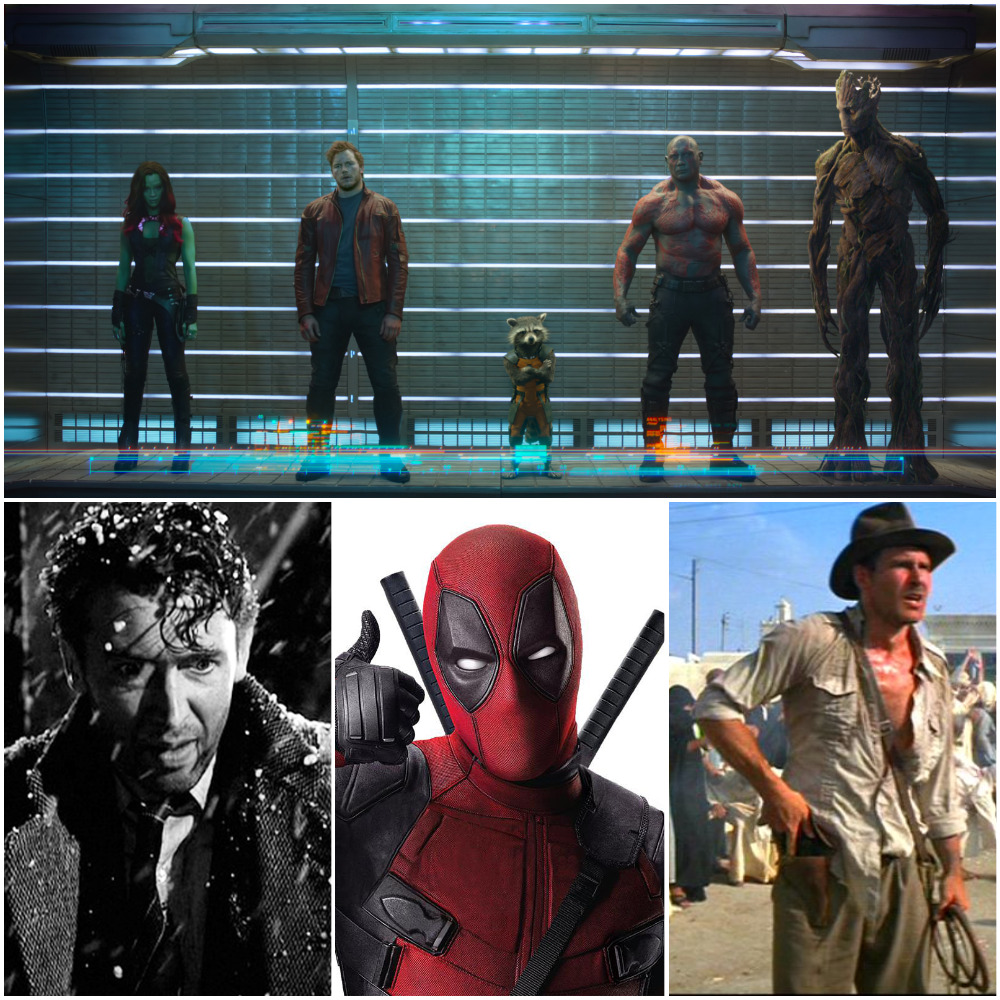 Jurassic Park (1993)…..Steven Spielberg strikes again.  One of four movies that he directed that made our list.  In this one man fights or actually runs from dinosaurs.  The Blu-Ray 3D version is highly recommended.
Odd Thomas (2013)…..the best performance in the late Anton Yelchin's career.  This is a fun movie that somehow managed to not get a big release in theaters. Love the book…love the movie….probably one of the movies on my list you are not too aware of….but it is highly recommended.
Pirates of the Caribbean: The Curse of the Black Pearl (2003)…yes this franchise quickly grew into blotted mess….but the first one has a certain charm to it…..the sword fighting scenes are awesome…Johnny Depp's first Jack Sparrow appearance is original and fresh…..and then you have the wonderful music for the movie.
Raiders of the Lost Ark (1981)….the movie that turned me into a movie junkie…..and still a great movie.

The Comedies (14 Movies)
After Hours (1985) One of Martin Scorsese's least known movies….but we love this movie.    Griffin Dunne is excellent in the lead role.  The way Dunne reacts to the chaos is how I feel I would react to the chaos.  One of the best written screenplays ever….as everything fits nicely at the end of the movie.
Bottle Rocket (1996) Movie that made stars out of Owen Wilson and Wes Anderson.  Actually saw this one in theaters.  Making me one of 500 people to be able to make that claim. Wilson's Dignan is a wonderful and memorable movie character.
The 'Burbs (1989)  This is one quirky movie but I love it.  I probably watch this one every two years.  So many great lines.  Tom Hanks is good but the late Rick Ducommun steals the show as Hanks' crazy neighbor, Art.
Caddyshack (1980)  Golf, comedy, Chevy Chase, Bill Murray and Rodney Dangerfield….what more could you ask for?
Clerks (1994) This low budget black and white comedy has aged very well.  Kevin Smith wrote, directed and starred in this one.  Jeff Anderson's Randal steals the show.
Fandango (1985)  Kevin Costner and Judd Nelson go on an adventure after graduating from college.  Movie takes place during the Vietnam war….many funny scenes and one awesome soundtrack.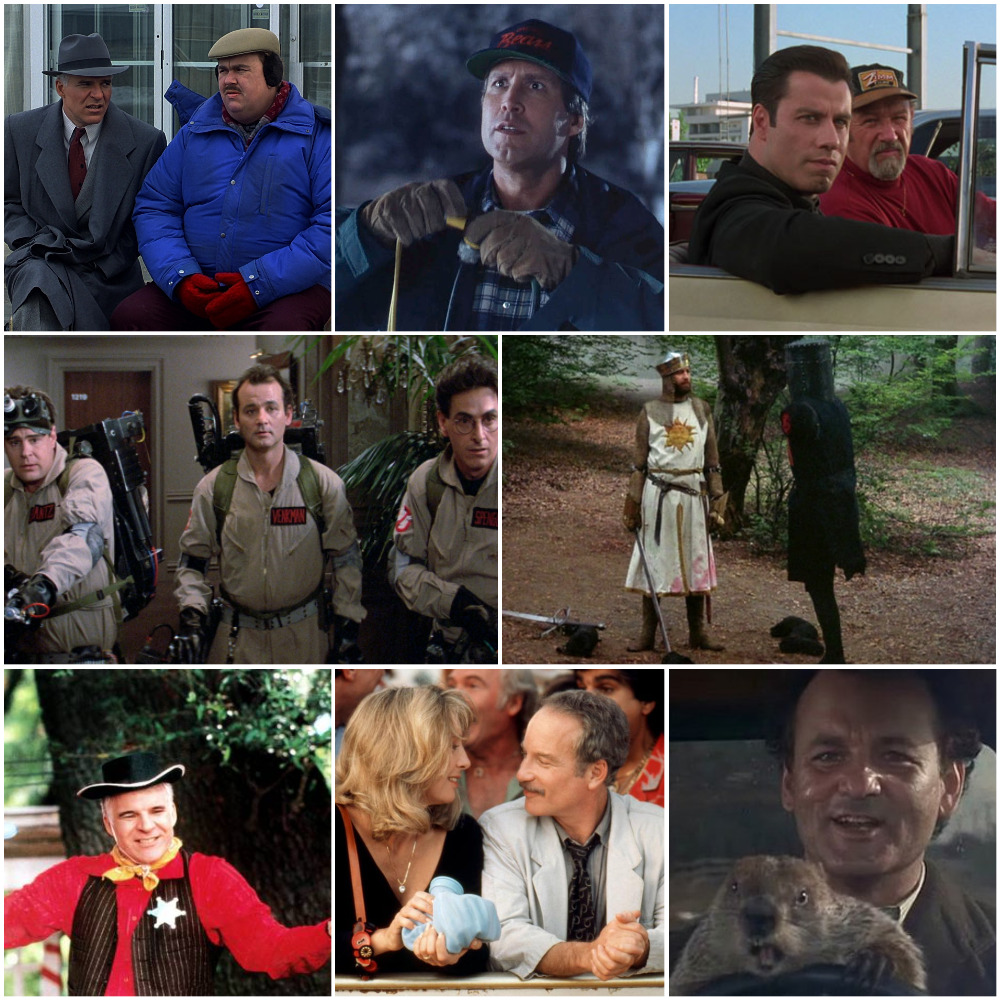 Get Shorty (1995) John Travolta's Chili Palmer is one of the coolest movie characters I have ever seen in movies.  Added bonus…it takes place in the world of movie making.
Ghostbusters (1984) Who ya gonna call?….Ghostbusters….still a funny movie all of these years later.
Groundhog Day (1993)  I never get tired of watching Bill Murray reliving the same day over and over and over.
Let It Ride (1989)  Richard Dreyfuss' last great lead performance.  Though I am sure many would argue that claim belongs to Mr. Holland's Opus.  A funny movie that does not worry about offending everybody.
Monty Python and the Holy Grail (1975)  A classic comedy.  First discovered this movie on PBS.  My Blu-Ray is being worn out.  "It's just a flesh wound".
National Lampoon's Christmas Vacation (1989)  We spend 2 hours every Christmas with the Griswolds.
Parenthood (1989)  I actually think this is Ron Howard's masterpiece.  Even though the movie is now closing in on 30 years old….it has aged very nicely.
Planes, Trains and Automobiles (1987)  Our annual Thanksgiving movie.  John Candy's Del Griffith brings laughs and tears.

The War Movies (8 Movies)
Apocalypse Now (1979)….one of the best movies to show the insanity of war….really love the first half of the movie….find the final third of the movie a little slow moving….yet it is hard to take your eyes off of Mr. Marlon Brando in that final third.
Black Hawk Down (2001)….one of the most intense movies ever made.  The casting director needs a special Oscar® for the job they did in this movie.  Almost every role is played by a very well known actor.
Empire of the Sun (1987)….to us….Christian Bale provides one of the greatest child performances ever in this movie.  We actually thought it was two kids playing the role….but nope Mr. Bale does the entire role. His performance carries us over the slow pacing of the movie.
The Great Escape (1963)….we love this movie…..what a cast….what great scenes…..and based on a true story….one day I hope to watch this one and see James Garner's plane NOT running out of gas.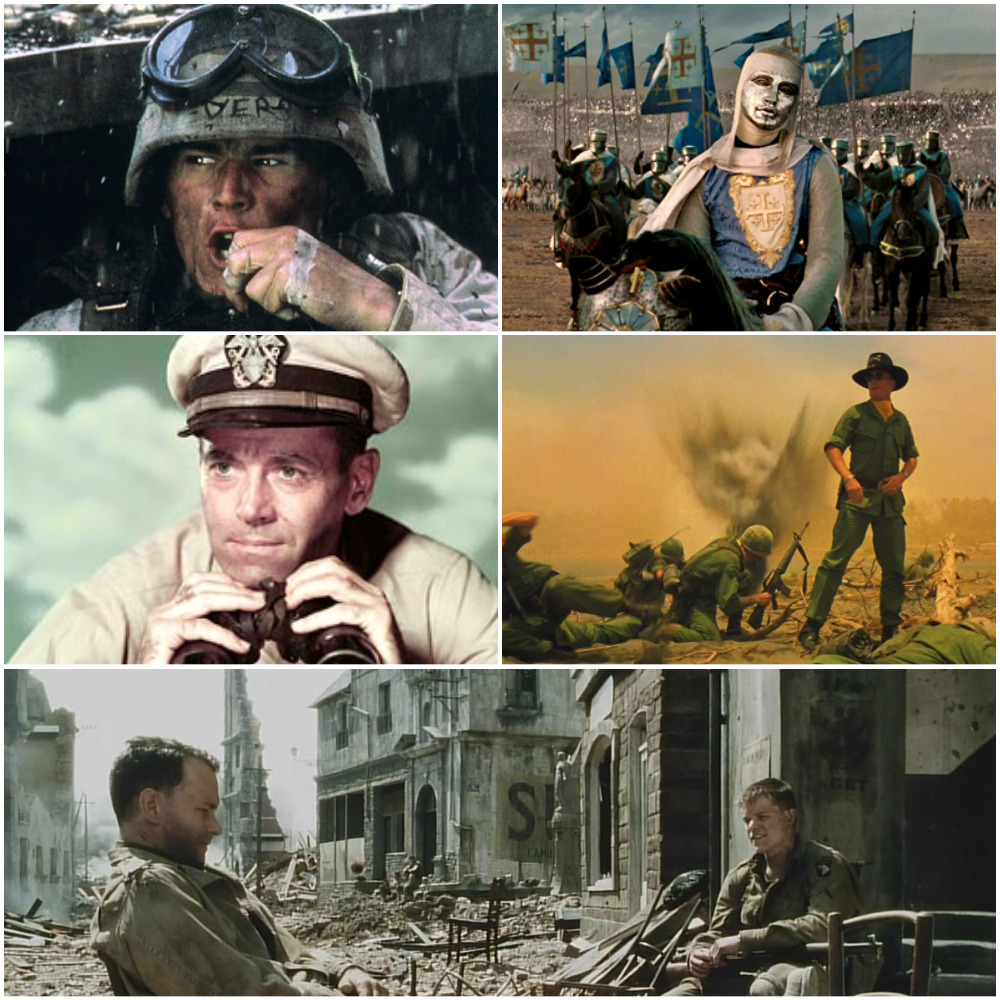 Kingdom Of Heaven (2005)….this is in reference to Ridley Scott's Director's Cut version.  The version released in theaters is ok….but the longer and much better version is so much better.  This movie has aged much better than Scott's Gladiator.
Lawrence of Arabia (1962)….one of my dad's favorite movies…so his influence over me weighs heavily in the inclusion of this movie.  As for the movie….the very definition of "epic" movie.
Mister Roberts (1955)….truly a great movie….what a cast….James Cagney, Henry Fonda, William Powell and Jack Lemmon….and directed by the great John Ford…..Lemmon won a much deserved Oscar® for playing Ensign Pulver.
Saving Private Ryan (1998)….still stunned Shakespeare in Love topped this movie to win the Best Picture Oscar®.  The opening scenes are some of the best ever filmed!

The Bruce Willises (7 Movies)
12 Monkeys (1995)….in my opinion this movie has the best Bruce Willis performance.  Great story which is either about a time traveler or about a mental patient….even after all of these years I still do not know the answer to that question.
Die Hard (1988)….one of the best action movies ever made…not to mention one of the best Christmas movies ever made.
The Fifth Element (1997)….watch this movie at least twice a year…have convinced all of my kids into thinking this is one of the greatest science fiction movies ever made.
Looper (2012)….the battle of a young Bruce Willis and an old Bruce Willis…..the best Bruce Willis movie of the last 15 years.
Pulp Fiction (1994)….should have won the Oscar for Best Picture.  So many great scenes…so many memorable lines…so many great performances.
Sin City (2005)….a visually stunning movie…even though the subject matter is not always easy to watch.  Bruce's John Hartigan is a fun character to root for….as he wades through evil to get his man.
The Sixth Sense (1999)……one of the biggest hits of all-time, one of the greatest twist endings of all-time and a Top 3 performance by Bruce Willis…not to mention one of the greatest child performances of all-time by Haley Joel Osment.

The Science Fiction Movies (13 Movies)
Aliens (1986)….one of the greatest action movies ever made…..even though this gets classified as a science fiction or a horror movie.  One of three James Cameron movies on our list.  Which is not too bad considered he has only directed a handful of movies.
Back to the Future (1985)….one of the biggest blockbuster of all-time…this movie can still entertain the younger generation….as my children also enjoy this movie.
Blade Runner (1982)…..love everything about this movie….from the story….to how it looks….to Harrison Ford's hero….to Rutger Hauer's villain.  My final thought?  Deckard is not a replicant.
Brazil (1985)……Terry Gilliam's masterpiece.  No matter how many times I see this movie I always pick out something new in this one.  Watching this movie with Gilliam's DVD commentary is also highly recommended.
Close Encounter of the Third Kind (1977)…Steven Spielberg's first movie dealing with aliens from outer space. Richard Dreyfuss is outstanding as the family man who gives up everything to find out the truth. There is an excellent Blu-Ray version out there..highly recommend it.
Escape From New York (1981)….the movie that gave us Snake Plissken…..the scary part of this movie…the future told in this movie was in 1999…..let's see that was almost 20 years ago…where did the time go?
The Matrix (1999)…..the first and best of the adventures of Neo and his friends.  Too bad the sequels were so bad.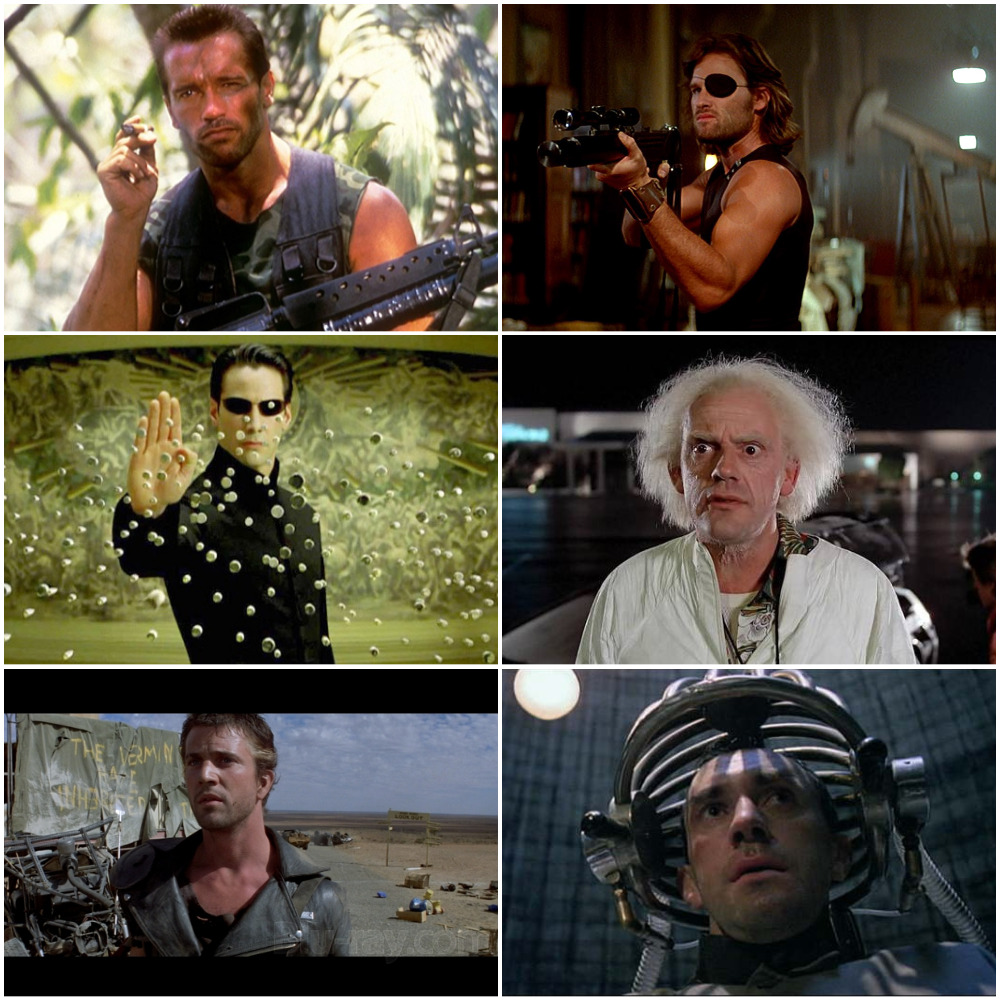 Predator (1987)….Arnold takes on an alien….the Predator 3D version is like watching the movie for the first time.
The Road Warrior (1981)….the second Mad Max movie is the best one in my world.  The final action scene might be the best action scene ever made…..no computer help needed.
Star Trek: The Voyage Home (1986)…..the best Star Trek movie or episode that I have ever seen.  The pinnacle of the original cast members…..Live long and prosper.
Star Wars (1977)….the original and best Star Wars movie ever made…and now we can see the movie on Blu-Ray….my 5 year old watched Star Wars with me a couple weeks ago and it sucked her in as well. ..the sign of a great movie.
The Terminator (1984) ….one of the greatest science fiction movies ever…..a story so good that almost 30 years later it is still producing television series and more sequels….Arnold was great as The Terminator….but I really liked Micheal Biehn as Kyle Reese.
Terminator 2: Judgment Day (1991)….one of the few sequels that is an equal or even better movie than the original.  The only thing that would have made this movie better?….if the Kyle Reese dream sequence would have made the movie instead of ending up on the cutting room floor.

The Foreign (To Me) Movies (5 Movies)
Amélie (2001)…I feel in love with Audrey Tautou when I first saw this movie…I was convinced she was going to become the next Audrey Hepburn.  That has not happened but this is still a wonderful movie.
Cinema Paradiso (1988)…there are many versions of this movie out there….but the one I love is the long director's cut version.  Movies do not normally make me cry….but I will admit the final scene (the one with the film clips) in this one did….and I am not afraid to admit it.
Life Is Beautiful (1997)….a comedy about the Holocaust?….yep and this is one incredible movie.  As Roberto Benigni shines as a father trying to protect his young son no matter how bad things get for them.
Lock, Stock and Two Smoking Barrels (1998)….yep this "foreign film" is from England….but the accents require this one to be viewed with subtitles.  This one has everything…action, drama, humor and great performances.  I watch this one about every two years.
Ran (1985)….I have always thought Akira Kurosawa's last masterpiece was visually stunning but as I get older I appreciate the story just as much.


The Michael Caines (7 Movies)
A Bridge Too Far (1977) ….One of the last epic war movies, an all-star cast that has some humor while telling the true story of World War II's Operation: Market Garden. I watch this movie at least once a year.
The Dark Knight (2008)….Heath Ledger steals the show as the Joker.  Caine's part is much smaller compared to Batman Begins.  This is one of the best superhero movies ever made.
Dirty Rotten Scroundrels (1988) The give and take between Sir Michael Caine and Steve Martin is a joy to watch and re-watch.  One fun movie with a nice twist ending.  I wish Caine and Martin would have made another movie together.
Kingsman: The Secret Service (2014)…..One of my favorite movies of the last 5 years.  Great action (church scene is amazing), great humor and memorable performances across the board.
The Man Who Would Be King (1975) …You get Caine, Sean Connery and legendary director John Huston in this adventure film that almost starred Humphrey Bogart and Clark Gable back in the 1950s.
The Prestige (2006)….Caine's 2nd of 6 movies with director Christopher Nolan. Caine plays the middle man as Christian Bale and Hugh Jackman wages in a brutal personal conflict.
Sleuth (1972)….Caine goes toe to toe with Sir Laurence Olivier as movie characters and in acting ability. Both men got Oscar® nominations for Best Actor for their roles in Sleuth. Avoid the 2007 remake that also stars Caine as it is pretty horrible.

The Chick Flicks also known as the Hugh Grant Section (6 Movies)
Casablanca (1942)….has been considered an all-time classic for almost 80 years….who are we to argue it is not.  Simply one of the best movies ever made.
Four Weddings and a Funeral (1994)….the movie that made Hugh Grant an international superstar.  Movie still makes us laugh no matter how many times we see it.
Love Actually (2003)…..we watch this movie every year…..so many fun and memorable scenes.  Hugh Grant is a delight as the Prime Minister.  Added bonus Colin Firth, Keira Knightley, Liam Neeson, Emma Thompson, Bill Nighy and Andrew "Walking Dead" Lincoln all shine as well.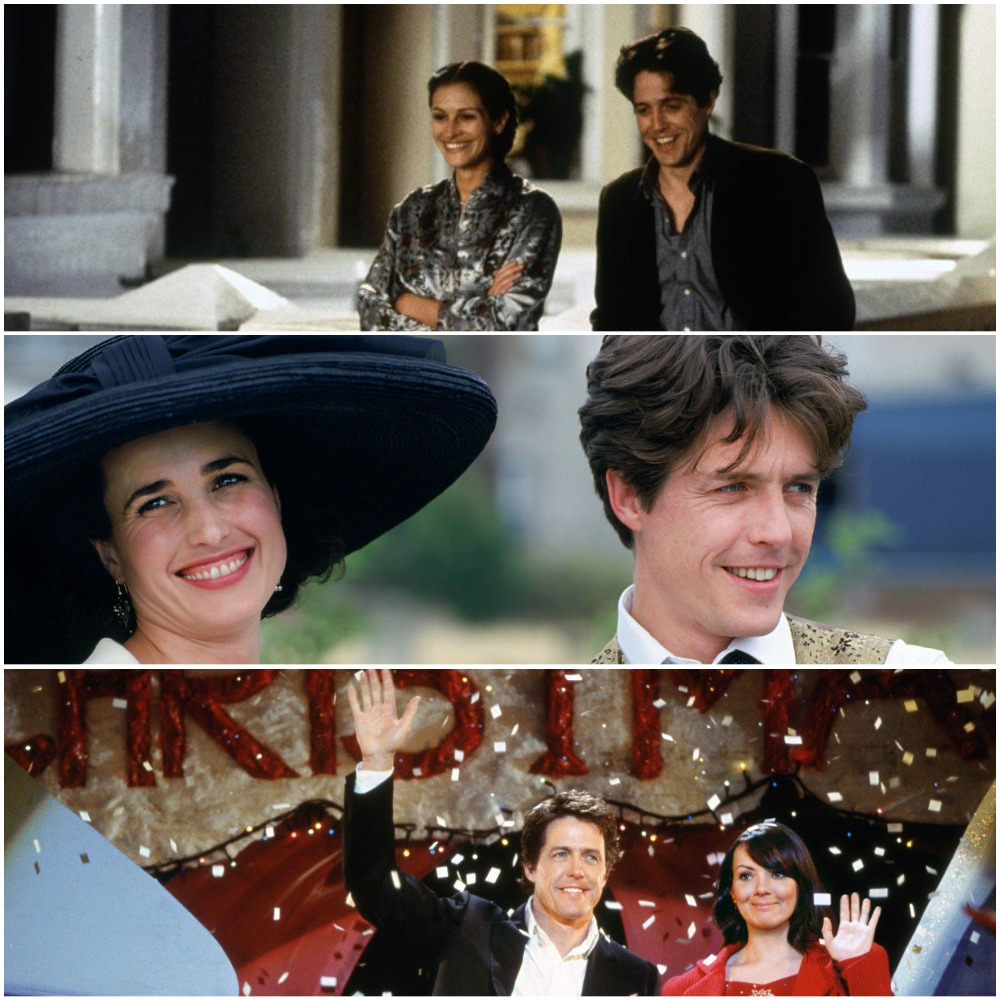 Notting Hill (1999)….along with The American President (not on this list) the movie that gets watched the most in our house.
The Quiet Man (1952)….John Wayne and Maureen O'Hara creating movie magic…..this one is always a fun watch.  Love John Wayne but this is the Wayne movie that gets watched the most in our house.
She's The One (1996)……based on it's 6.0 IMDb rating…this will not be a popular pick….but love the characters in this movie.  Jennifer Aniston, Edward Burns, Cameron Diaz and Frasier's dad all shine in this one.

The Thrillers (5 Movies)
All The President's Men (1976)…this story of Washington Post reporters breaking the Watergate case is a thrilling movie even if we know how it ends.
Apollo 13 (1995)…..Houston we do not have a problem calling this one of our favorite movies.  One of two Ron Howard directed movies to make our list.  Having Tom Hanks in the lead role is certainly an added bonus as well.
Goldfinger (1964)….not only our favorite Sean Connery James Bond movie….but our favorite all-time Bond movie…which pains us to admit….as I grew up liking the Roger Moore Bond more than the Connery Bond.
Jaws (1975)….the movie that changed Hollywood and created the term….summer blockbuster.  This movie is aging very very well.
Rear Window (1954)….one of Alfred Hitchcock's greatest films ….one of my favorites back in 1988 and still one of my favorites in 2017

The Potpourri …2 Animations, 1 Drama and 1 Wonka (4 movies)
Cool Hand Luke (1967)….Paul Newman in another classic movie….no explanation required for this movie….although do I admit I missed all the Jesus imagery for years and years.
Heavy Metal (1981)….this was a huge movie in my youth….one of the first R rated movies I was able to sneak in and watch. Love the music…love the animation.  Later in life….I realized people like Harold Ramis and John Candy contributed to the success of this movie.
Toy Story (1995) The movie that changed Hollywood.  The first and still best computer animated movie offers lots of laughs.
Willy Wonka and the Chocolate Factory (1971)…..the original Hunger Games….Gene Wilder's Willy Wonka is amazing.  Not sure what Johnny Depp & Tim Burton did with their Wonka….but the way Wilder plays it is pitch perfect.
145 total views, 0 views today
(Visited 562 times)