Want to know the best Gary Oldman movies?  How about the worst Gary Oldman movies?  Curious about Gary Oldman box office grosses or which Gary Oldman movie picked up the most Oscar® nominations? Need to know which Gary Oldman movie got the best reviews from critics and audiences and which got the worst reviews? Well you have come to the right place….because we have all of that information.
Gary Oldman (1958-) is an English Oscar® nominated actor.  Oldman first gained notoriety for playing punk rocker Sid Vicious in 1986's Sid and Nancy.  Over the last 30 years Oldman has been one of the most productive and successful actors working in Hollywood.  His IMDb page shows over 87 credits from 1982-2017. This page ranks 42 Gary Oldman movies from Best to Worst in six different sortable columns of information. Television shows, shorts, video games, documentaries and movies not released in North America theaters were not included in the rankings.

Drivel part of the page:  Recently Cogerson Son #2 was over the house for a visit.  We were surprisingly talking about UMR.com (that was sarcasm)….when he noticed that we did not have a UMR page on Gary Oldman.  He said…"Hey Pops….I think you should do something about that.".  So….since he suggested it and that Cogerson Daughter #1 really likes Gary Oldman (The 5th Element is one of her all-time favorites)…..we finally have taken the time and have written a page on Mr. Oldman.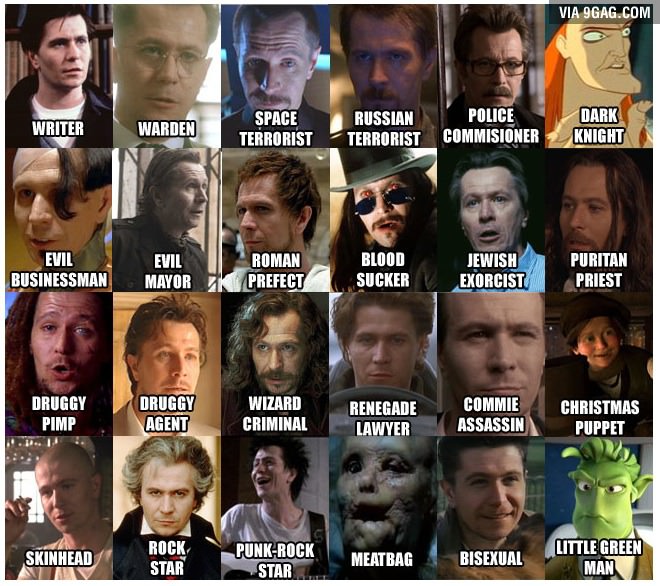 Gary Oldman Movies Can Be Ranked 6 Ways In This Table
The really cool thing about this table is that it is "user-sortable". Rank the movies anyway you want.
Sort Gary Oldman movies by co-stars of his movies.
Sort Gary Oldman movies by adjusted domestic box office grosses using current movie ticket cost (in millions)
Sort Gary Oldman movies by yearly domestic box office rank
Sort Gary Oldman movies how they were received by critics and audiences.  60% rating or higher should indicate a good movie.
Sort by how many Oscar® nominations each Gary Oldman movie received and how many Oscar® wins each Gary Oldman movie won.
Sort Gary Oldman movies by Ultimate Movie Rankings (UMR) Score.  UMR Score puts box office, reviews and awards into a mathematical equation and gives each movie a score.
Use the search and sort button to make this page very interactive.
Stats and Possibly Interesting Things From The Above Gary Oldman Table
Fifteen Gary Oldman films crossed the magical $100 million domestic gross mark.  That is a percentage of 35.71% of his movies listed. The Dark Knight (2008) is his biggest box office hit.
An average Gary Oldman movie grosses  $104.70 million in adjusted box office gross.
Using RottenTomatoes.com's 60% fresh meter. 27 Gary Oldman films are rated as good movies…or 65.85% of his movies.  The Dark Knight (2008) is his highest rated movie while Paranoia (2013) is his lowest rated movie.
Thirteen Gary Oldman films received at least one Oscar® nomination in any category…..or 30.95% of his movies.
Three Gary Oldman films won at least one Oscar® in any category…..or 7.14% of his movies.
An average Ultimate Movie Rankings (UMR) Score is 40.00.  17 Gary Oldman films scored higher that average….or 40.47% of his movies.  The Dark Knight (2008) got the the highest UMR Score while Paranoia (2013) got the lowest UMR Score.
Possibly Interesting Facts About Gary Oldman

1. Gary Leonard Oldman was born in New Cross, London in 958.
2. Gary Oldman studied acting at Citizens Theater in Glasgow.  From there he appeared in some very successful plays in London's West End (see of these performances Steve?).  Next for Oldman was movies…and the rest is history.
3. Gary Oldman and 1986's Sid and Nancy. Oldman lived on a diet of steamed fish and melon to lose enough weight to play the emaciated, heroin-addicted Sid, and was hospitalized when he went too far and became malnourished.

4. Gary Oldman is an acting hero in the minds of: Michael Fassbender, Ryan Gosling, Shia LaBeouf, ,and Tom Hardy.
5. Gary Oldman has received one Oscar® nomination in his career.  He was nominated for Best Actor in 2011's Tinker, Tailor, Soldier, Spy
6. Gary Oldman has been married 4 times….he has three children.
7. Gary Oldman has used a different speaking voice (i.e. accent) in practically every movie he's ever been in.
8. Gary Oldman and The Fifth Element Trivia Part 1:  The hero Korben Dallas (Bruce Willis) and the villain Jean Baptiste Emanuel Zorg (Oldman) never meet, nor do they communicate in any way. They are, in fact, unaware of each other's degree of involvement.  (This has always amazed me!).
9. Gary Oldman and The Fifth Element Trivia Part 2: In most shots of Oldman's Zorg, there is a circle around his head. In fact, a circle in the middle of the frame is a near-constant motif in this film. Bruce Willis, on the other hand, is more often framed by a rectangle or doorway behind him.  (Pay attention to that the next time you watch the movie).
10. Check out Gary Oldman's career compared to current and classic actors.  Most 100 Million Dollar Movies of All-Time.
Academy Award® and Oscar® are the registered trademarks of the Academy of Motion Arts and Sciences.  Golden Globe® is a registered trademark of the Hollywood Foreign Press.
For comments….all you need is a name and a comment….please ignore the rest.
991 total views, 0 views today
(Visited 1,177 times)