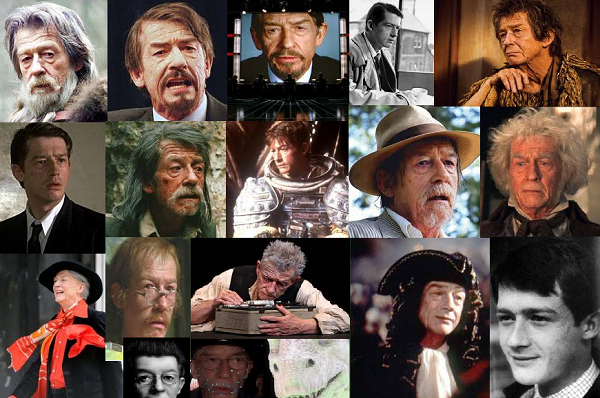 January 27th, 2017.  So about 30 minutes ago, Cogerson Son #2 called the house and said…"You need to write a new UMR page."  I responded…."Uh-oh…who passed away?"  When he said "John Hurt" ….many of his movies flashed through my head.  So as a tribute to his movie career…I decided to list the movies that popped into my head when I heard this sad news.
John Hurt (1940-2017) was an Oscar® nominated actor whose career lasted for over 55 years.  His IMDb page shows over 200 acting credits from 1962-2017. This page will ranks our personal favorite Top 15 John Hurt movies.  Rest in Peace Mr. John Hurt
John Hurt Movies Can Be Ranked 6 Ways In This Table
The really cool thing about this table is that it is "user-sortable". Rank the movies anyway you want.
Sort John Hurt movies by his co-stars
Sort John Hurt movies by adjusted domestic box office grosses using current movie ticket cost (in millions)
Sort John Hurt movies by domestic yearly box office rank
Sort John Hurt movies how they were received by critics and audiences.  60% rating or higher should indicate a good movie.
Sort by how many Oscar® nominations and how many Oscar® wins each John Hurt movie received.
Sort John Hurt movies by Ultimate Movie Rankings (UMR) Score. UMR Score puts box office, reviews and awards into a mathematical equation and gives each movie a score.
R
Movie (Year)
UMR Co-Star Links
Adj. B.O. Worldwide (mil)
Review
Oscar Nom / Win
UMR Score
R
Movie (Year)
UMR Co-Star Links
Actual B.O. Domestic (mil)
Adj. B.O. Domestic (mil)
Adj. B.O. Worldwide (mil)
B.O. Rank by Year
Review
Oscar Nom / Win
UMR Score
S
1
Alien (1979)
Sigourney Weaver
106.10
365.5
365.50
2
92
02 / 01
98.4
2
Harry Potter and the Deathly Hallows: Part 2 (2011)
Daniel Radcliffe &
Emma Watson
381.00
415.6
1,463.30
1
91
03 / 00
98.3
3
Midnight Express (1978)


AA Best Picture Nom




AA Best Supp Actor Nom

Brad Davis
34.20
126.5
126.50
15
77
06 / 02
96.9
4
The Elephant Man (1980)


AA Best Picture Nom




AA Best Actor Nom

Anthony Hopkins
27.90
92.9
92.90
25
88
08 / 00
95.9
5
Harry Potter and the Deathly Hallows: Part 1 (2010)
Daniel Radcliffe &
Emma Watson
296.00
324.5
1,052.80
5
77
01 / 00
95.8
6
Harry Potter and the Sorcerer's Stone (2001)
Daniel Radcliffe
317.60
486.2
1,492.30
1
74
03 / 00
95.6
7
Indiana Jones and the Kingdom of the Crystal Skull (2008)
Harrison Ford
317.10
382.0
947.70
3
68
00 / 00
93.6
8
Contact (1997)
Jodie Foster &
Matthew McConaughey
100.90
190.2
322.50
15
68
01 / 00
92.5
9
V for Vendetta (2005)
Natalie Portman
70.50
95.3
179.10
34
75
00 / 00
82.9
10
Hellboy (2004)
Ron Pherlman
59.60
83.1
83.10
49
77
00 / 00
81.6
My Top 15 John Hurt Movies
Alien (1979)

…one of the greatest science fiction movies of all-time….plus he is the focus of the most famous scene in the movie

The Elephant Man

(1980)….his performance as John Merrick…better known as the Elephant Man…is sensational….and well deserving of his Oscar® nomination that he received for the role

Snowpiercer

(2014)….yet another great science fiction role…one of my favorite movies of 2014

Midnight Express

(1979)….this is a brutal film to watch….it is after all about a Turkish prison….but Hurt received this first Oscar® nomination for this movie

V for Vendetta

(2006)….here is a common theme…John Hurt in another great movie that takes place in the future

Owning Mahowny

(2003)….Roger Ebert raved about John Hurt's performance in this movie….and that got me to really appreciate the subtle great performance of Hurt in this one

Harry Potter and the Sorcerer's Stone

(2001)….his role as Mr. Ollivander (played him 3 times) is pretty small…but his role as the wand seller introduced him to a brand new generation of movie fans

Hellboy

(2004) …..love this movie….and Hurt is a blast to watch….wish he had come back for a bigger role in the sequel

1984

(1984)….the George Orwell classic novel came to the big screen the same exact year the novel takes place…Hurt is stellar as the main character

Contact

(1997)…..this is actually one of my wife's favorite movies….but I really like his performance as the crazed billionaire pulling all the strings

Indiana Jones and the Kingdom of the Crystal Skull

(2008)….ok….I strongly dislike this movie….but having a major role in a major franchise like this ….gets it listed here

From the Hip

(1987)….always thought his performance in this one was Oscar worthy….saw this in a packed theater that has highly entertained by this movie…added bonus…..my first date with my now wife ended with us watching this movie on DVD

Heaven's Gate

(1980)….yes this is considered one of the biggest Hollywood bombs of all-time…but if you ever get a chance to see the director's cut….you will find a great John Hurt performance

Jake Speed

(1986)….granted this has a horrible critic/audience rating…but I had fun watching it back on HBO in the 1980s…where it seemed to play all the time

The Osterman Weekend

(1983)…directed by Sam Peckinpah….co-starring the legend Burt Lancaster…John Hurt seems to be having fun playing the role
164 total views, 0 views today
(Visited 9,616 times)