Want to know the best Kim Novak movies?  How about the worst Kim Novak movies?  Curious about Kim Novak box office grosses or which Kim Novak movie picked up the most Oscar® nominations? Need to know which Kim Novak movie got the best reviews from critics and audiences and which ones got the worst reviews? Well you have come to the right place…. because we have all of that information and much more.
Kim Novak (1933-) is an American film and television actress.  Novak most famous role was in Alfred Hitchcock's Vertigo (1958)….which is considered by many to be the greatest movie ever made.   Her IMDb page shows 33 acting credits from 1953-1991. This page will rank 25 Kim Novak movies from Best to Worst in six different sortable columns of information.  Uncredited roles, bit parts, television roles and shorts were not included in the rankings.
Kim Novak Movies Can Be Ranked 6 Ways In This Table
The really cool thing about this table is that it is "user-sortable". Rank the movies anyway you want.
Sort Kim Novak movies by co-stars of her movies
Sort Kim Novak movies by adjusted domestic box office grosses using current movie ticket cost (in millions)
Sort Kim Novak movies by yearly domestic box office rank
Sort Kim Novak movies by how they were received by critics and audiences.  60% rating or higher should indicate a good movie.
Sort by how many Oscar® nominations and Oscar® wins each Kim Novak movie received.
Sort Kim Novak movies by Ultimate Movie Ranking (UMR) Score.  UMR puts box office, reviews and awards into a mathematical equation and gives each movie a score.
Stats and Possibly Interesting Stats From The Above Kim Novak Table
Ten Kim Novak movies crossed the magical $100 million domestic gross mark.  That is a percentage of 40.00% of her movies listed.  Picnic (1955) was her biggest box office hit.
An average Kim Novak movie grossed $90.90 million in adjusted box office gross.
Using RottenTomatoes.com's 60% fresh meter.  15 Kim Novak movies are rated as good movies…or 60.00% of her movies.  Vertigo  (1957) was her highest rated movie while The White Buffalo (1977) was her lowest rated movie.
Seven Kim Novak movies received at least one Oscar® nomination in any category…..or 28.00% of her movies.
Two Kim Novak movies won at least one Oscar® in any category…..or 8.00% of her movies.
An "a good movie" Ultimate Movie Ranking (UMR) Score is 60.00.  14 Kim Novak movies scored higher than that….or 56.00% of her movies.  Picnic (1955) got the the highest UMR Movie Score while The White Buffalo (1977) got the lowest UMR Movie Score.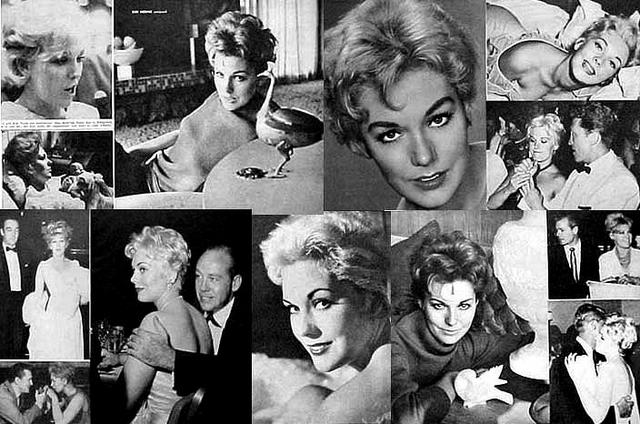 Possibly Interesting Facts About Kim Novak
1. Marilyn Pauline Novak was born  in Chicago, Illinois in 1933.
2.  Kim Novak won two scholarships to the School of the Art Institute of Chicago.   Novak has become an well respected artist.  Examples of her work can be found at her website Kim Novak Artist.  Film buffs will really like the 9th painting down.  It is called……Vertigo/Vortex of Delusion.
3.  During the summer break in Kim Novak's last semester of junior college, Novak went on a cross-country tour modeling for a refrigerator company at trade shows.  She was "Miss Deepfreeze" in the shows.
4.  Kim Novak/Miss Deepfreeze was spotted by an agent when the refrigerator tour stopped in Los Angeles.  This led her to signing a movie contract with Columbia Pictures.
5.  Columbia's chief, Harry Cohn wanted (a) Novak to be the successor to Rita Hayworth and (b) wanted Novak to change her name to Kit Marlowe.   Novak fought to keep her name, and the two eventually compromised on "Kim Novak".   One of Novak's last roles was playing "Kit Marlowe" on the television show…Falcon Crest.
6. Kim Novak has been married two times.  Since 1976, Kim has been happily married to Robert Malloy, a veterinarian who shares her passion for animals and nature. Kim and her husband live on a ranch in Oregon where they raise llamas and horses, and frequently go canoeing. Kim is also an accomplished artist who expresses herself in oil paintings and sculptures.
7.  Kim Novak was the original choice to play Marion Wormer (the Dean's wife) in 1978's Animal House.
8. Kim Novak and Vertigo trivia part 1.  (a)  James Stewart was 49 and Novak was 24 when they made Vertigo.  (b)  Alfred Hitchcock thought Kim Novak was miscast in the movie.  (c)  Vertigo is considered the greatest movie ever made by Sight and Sound's movie poll.  (d)  Vertigo is ranked as the 79th best movie on IMDb.  (e) Vertigo is ranked 30th on our UMR best reviewed movies in our database.  (f) Novak and Barbara Bel Geddes' characters never meet.  (g)  Novak's character does not speak until a third of the way into the movie.
9.  Kim Novak and Vertigo trivia part 2.   Kim Novak went on strike during the filming of Vertigo.  She was striking for more money from her home studio Columbia, who was paying her $1,250 a week even though they were receiving $250,000 for her loan-out for Vertigo and one more picture. The ploy worked and Novak got a raise.
10. Check out Kim Novak's movie career compared to current and classic stars on our Most 100 Million Dollar Movies of All-Time page.
Steve's Kim Novak You Tube video goes very well with this page.
Academy Award® and Oscar® are the registered trademarks of the Academy of Motion Arts and Sciences.  Golden Globes® are the registered trademark and service mark of the Hollywood Foreign Press.
1,045 total views, 0 views today
(Visited 662 times)