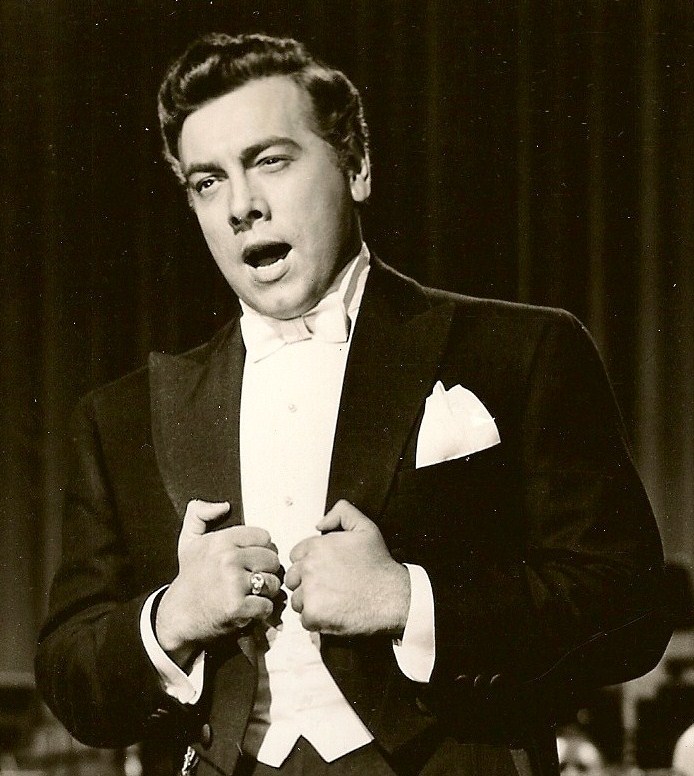 Want to know the best Mario Lanza movies?  How about the worst Mario Lanza movies?  Curious about Mario Lanza box office grosses or which Mario Lanza movie picked up the most Oscar® nominations? Need to know which Mario Lanza movie got the best reviews from critics and audiences? Well you have come to the right place….because we have all of that information.
Mario Lanza (1921-1959) was a famous American tenor who turned his attention to making movies in the late 1940s and the 1950s.  Lanza quickly became a Hollywood film star.   His IMDB page shows 10 credits from 1944-1959. This page will rank 8 Mario Lanza movies from Best to Worst in six different sortable columns of information. His his uncredited role in 1944's Winged Victory and his television appearance on Shower of Stars (1954) were not included in the rankings.

Drivel part of the page:  This Mario Lanza page comes from a request by BERN1960.  For those that do not know…BERN1960…..would be my mother.  I have not seen a single Mario Lanza movies….but I can recognize his voice.  That is because growing up in my house….his records played many many times….as Lanza has be one of my mom's Top 3 singers of all-time.  So here you go BERN1960….a look at Mario Lanza's short but successful career.
Mario Lanza Movies Can Be Ranked 6 Ways In This Table
The really cool thing about this table is that it is "user-sortable". Rank the movies anyway you want.
Sort Mario Lanza movies by co-stars of his movies
Sort Mario Lanza movies by adjusted domestic box office grosses using current movie ticket cost (in millions)
Sort Mario Lanza movies by domestic yearly box office rank
Sort Mario Lanza movies by adjusted worldwide box office grosses using current movie ticket cost (in millions)
Sort Mario Lanza movies how they were received by critics and audiences.  60% rating or higher should indicate a good movie
Sort Mario Lanza movies by Ultimate Movie Ranking (UMR) Score.  UMR Score puts box office, reviews and awards into a mathematical equation and gives each movie a score.
| Rank | Movie (Year) | UMR Co-Star Links | Adj. B.O. Domestic (mil) | Box Office Rank by Year | Adj. B.O. Worldwide (mil) | Critic Audience Rating | UMR Score |
| --- | --- | --- | --- | --- | --- | --- | --- |
| | Great Caruso, The (1951) | Ann Blyth | $218.30 | 4th of 1951 | $457.30 | 66.50% | 64.06 |
| | Student Prince, The (1954) Voice Role | Edmund Purdom | $132.40 | 37th of 1954 | $280.40 | 68.00% | 52.48 |
| | Because You're Mine (1952) | James Whitmore | $96.50 | 37th of 1952 | $194.50 | 60.00% | 43.56 |
| | That Midnight Kiss (1949) | Kathryn Grayson & Ethel Barrymore | $94.10 | 42nd of 1949 | $173.10 | 60.00% | 42.79 |
| | Toast of New Orleans, The (1950) | David Niven & Kathryn Grayson | $83.80 | 69th of 1950 | $162.80 | 61.50% | 42.29 |
| | Serenade (1956) | Joan Fontaine & Vincent Price | $65.70 | 71st of 1956 | $120.70 | 58.00% | 37.44 |
| | For The First Time (1959) | Johanna von Koczian | $28.50 | 85th of 1959 | $67.50 | 59.00% | 32.15 |
| | Seven Hills From Rome (1957) | Renato Rascel | $29.20 | 97th of 1957 | $84.20 | 50.00% | 28.03 |
Stats and Possibly Interesting Things From The Above Mario Lanza Table
Two Mario Lanza movies crossed the magical $100 million domestic gross mark.  That is a percentage of 25.00% of his movies listed. The Great Caruso (1952) is his biggest box office hit.
An average Mario Lanza movie grosses $93.60 million in adjusted box office gross.
Mario Lanza's career adjusted domestic gross is $748.80 million.
Mario Lanza's career adjusted worldwide gross is $1.54 billion.
Using RottenTomatoes.com's 60% fresh meter.  5 Mario Lanza movies are rated as good movies…or 62.50% of his movies.  The Student Prince (1954) is his highest rated movie while Seven Hills From Rome (1957) is lowest rated movie.
An average Ultimate Movie Ranking (UMR) Score is 40.00.  5 Mario Lanza movies scored higher that average….or 62.50% of his movies.  The Great Caruso (1952) got the the highest UMR Score while Seven Hills From Rome (1957) got the lowest UMR Score.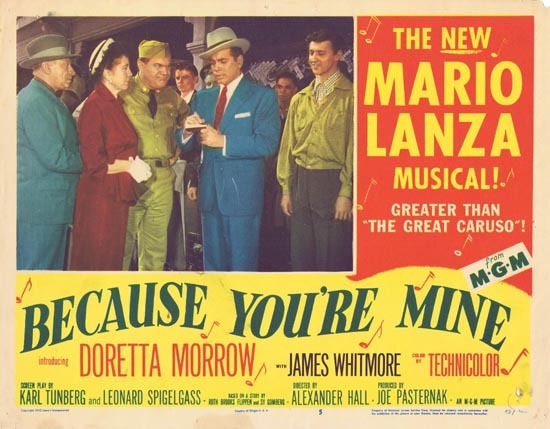 Possibly Interesting Facts About Mario Lanza
1. Alfred Arnold Cocozza was born in Philadelphia, Pennsylvania in 1921.
2. He adopted the stage name Mario Lanza, for its similarity to his mother's maiden name, Maria Lanza
3.  Mario Lanza was to a seven year contract with MGM when Louis B. Mayer heared Lanza sing at a concert.
4.  MGM had hoped Mario Lanza would become their "singing Clark Gable".
5.  Luciano Pavarotti, Plácido Domingo, José Carreras, Andrea Bocelli, and Jerry Hadley all credit Mario Lanza as an inspiration to them in pursuing their chosen careers.  I guess those are famous singers…lol.
6. The saga of The Student Prince.  Mario Lanza and the film's director (Curtis Bernhardt) did not get along during filming.  The end result was that Lanza walked off the set and vowed not to return as long as Bernhardt was the director. The studio took an injunction against Lanza for damages and losses. He could not perform in public, on radio, or in the recording studio for the remaining time of his contract with MGM. A solution was reached in May 1953: the studio would remove the embargo on Lanza if he would allow his voice to be used while another actor played the part of the prince.  So the movie ended up with Lanza's voice going out of Edmund Purdom's mouth.
7. Mario Lanza was married one time and had 4 children.
8. Mario Lanza died of an apparent pulmonary embolism at the age of 38 in 1959. At the time of his death he was still "the most famous tenor in the world".
9.  Three Mario Lanza movies were nominated for an Academy Award®.  1950's The Toast of New Orleans and 1952's Because Your Mine received 1 nomination….while 1951's The Great Caruso was nominated for 3 Oscars®….winning one time.
10. Check out Mario Lanza's career compared to current and classic actors.  Most 100 Million Dollar Movies of All-Time.
Academy Award® and Oscar® are the registered trademarks of the Academy of Motion Arts and Sciences. Golden Globes® are the registered trademark and service mark of the Hollywood Foreign Press.
If you do a comment….please ignore the email address and website section.
(Visited 1,026 times)