Want to know the best Michelle Pfeiffer movies?  How about the worst Michelle Pfeiffer movies?  Curious about Michelle Pfeiffer box office grosses or which Michelle Pfeiffer movie picked up the most Oscar® nominations? Need to know which Michelle Pfeiffer movie got the best reviews from critics and audiences and which ones got the worst reviews? Well you have come to the right place…. because we have all of that information and much more.
Michelle Pfeiffer (1958-) is a 3-time Oscar nominated American actress, singer, and producer.  Pfeiffer found fame as Al Pacino's love interest in 1983's Scarface.   Her IMDb page shows 61 acting credits since 1979. This page will rank 41 Michelle Pfeiffer movies from Best to Worst in six different sortable columns of information.  Uncredited roles, bit parts, television roles and shorts were not included in the rankings.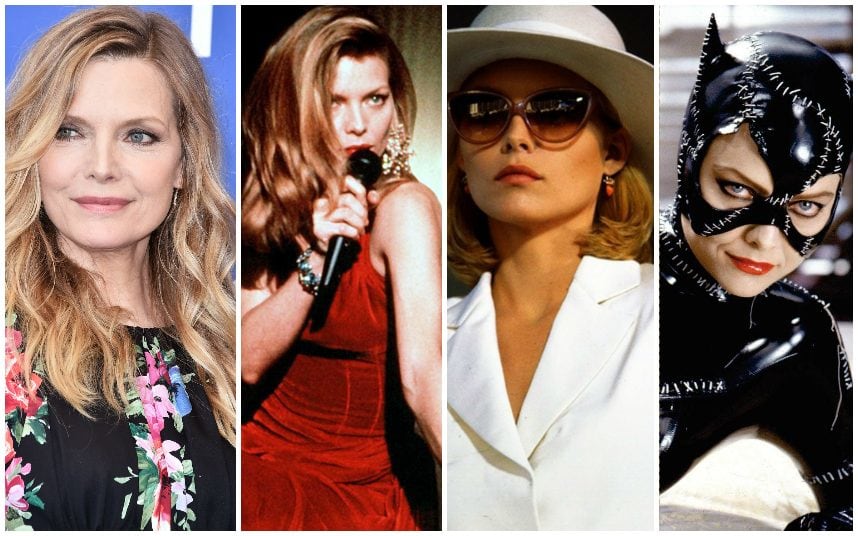 Michelle Pfeiffer Movies Can Be Ranked 6 Ways In This Table
The really cool thing about this table is that it is "user-sortable". Rank the movies anyway you want.
Sort Michelle Pfeiffer movies by co-stars of her movies
Sort Michelle Pfeiffer movies by adjusted domestic box office grosses using current movie ticket cost (in millions)
Sort Michelle Pfeiffer movies by yearly domestic box office rank
Sort Michelle Pfeiffer movies by how they were received by critics and audiences.  60% rating or higher should indicate a good movie.
Sort by how many Oscar® nominations and Oscar® wins each Michelle Pfeiffer movie received.
Sort Michelle Pfeiffer movies by Ultimate Movie Ranking (UMR) Score.  UMR puts box office, reviews and awards into a mathematical equation and gives each movie a score.
Stats and Possibly Interesting Stats From The Above Michelle Pfeiffer Table
Nine Michelle Pfeiffer movies crossed the magical $100 million domestic gross mark.  That is a percentage of 21.95% of her movies listed.  Batman Returns  (1992) was her biggest box office hit.
An average Michelle Pfeiffer movie grossed $70.10 million in adjusted box office gross.
Using RottenTomatoes.com's 60% fresh meter.  24 Michelle Pfeiffer movies are rated as good movies…or 58.53% of her movies.  Batman Returns  (1992) was her highest rated movie while New Year's Eve  (2011) was her lowest rated movie.
Eleven Michelle Pfeiffer movies received at least one Oscar® nomination in any category…..or 7.31% of her movies.
Three Michelle Pfeiffer movies won at least one Oscar® in any category…..or 8.00% of her movies.
An "a good movie" Ultimate Movie Ranking (UMR) Score is 60.00.  18 Michelle Pfeiffer movies scored higher than that….or 43.90% of her movies.  Batman Returns  (1992) got the the highest UMR Movie Score while Charlie Chan and the Curse of the Dragon Queen  (1981) got the lowest UMR Movie Score.
Possibly Interesting Facts About Michelle Pfeiffer
Michelle Marie Pfeiffer was born in Santa Ana, California in 1958.
2.  In 1978, Michelle Pfeiffer won the Miss Orange County beauty pageant and finished 6th in Miss California contest.  Following her participation in these pageants, she acquired an acting agent and began to audition for acting roles.
3.  Michelle Pfeiffer's first lead role was in 1982's Grease 2.  The film was a critical and commercial failure and almost derailed her career, as nobody wanted to hire her again.   Director Brian De Palma, having seen Grease 2, refused to audition Pfeiffer for 1983's Scarface .  Luckily, Martin Bregman, the film's producer, talked De Palma into giving her an audition…and the rest is history.
4.  Michelle Pfeiffer replaced Annette Bening as Catwoman in 1992's Batman Returns, due to the former actress' pregnancy.
5.  Michelle Pfeiffer has been an an avid oil painter for most of her life.
6. Michelle Pfeiffer has been married two times.   She was married to actor, Peter Horton from 1981 to 1988.  She has been married to television producer, David E. Kelley since 1993.  They have two children.
7.  Michelle Pfeiffer was nominated for 6 consecutive Golden Globe® Awards from 1989-1994.
8. Check out Michelle Pfeiffer's movie career compared to current and classic stars on our Most 100 Million Dollar Movies of All-Time page.
Steve's Michelle Pfeiffer You Tube video goes very well with this page.
Academy Award® and Oscar® are the registered trademarks of the Academy of Motion Arts and Sciences.  Golden Globes® are the registered trademark and service mark of the Hollywood Foreign Press.
1,290 total views, 0 views today
(Visited 414 times)