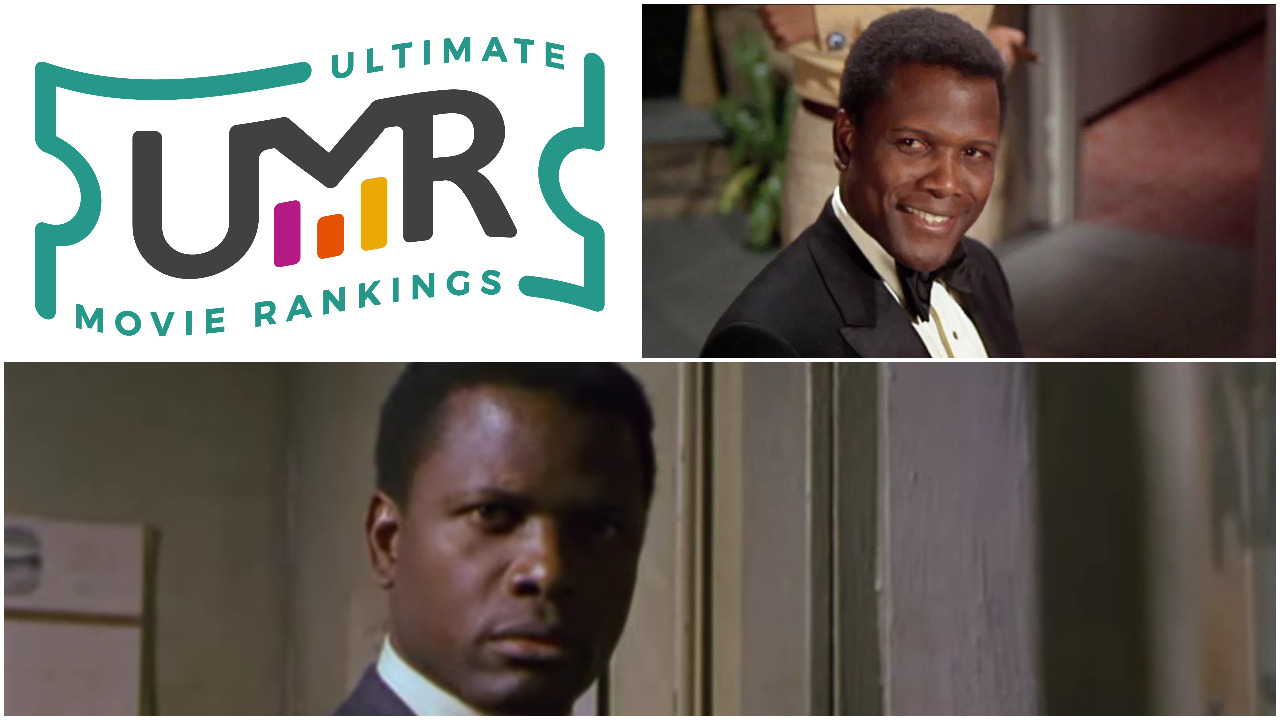 Want to know the best Sidney Poitier movies?  How about the worst Sidney Poitier movies?  Curious about Sidney Poitier's box office grosses or which Sidney Poitier movie picked up the most Oscar® nominations? Need to know which Sidney Poitier movie got the best reviews from critics and audiences and which got the worst reviews? Well you have come to the right place….because we have all of that information.  This page comes from a request by my mother-in-law, mimic. She suggested Sidney Poitier many months ago. Sorry mimic that it took so long to finally produce this hub….but here it is for your viewing pleasure.
Sidney Poitier (1927-) could be considered the Jackie Robinson of Hollywood. His career broke down numerous racial barriers. Poitier's performance in 1958's The Defiant Ones, earned him an Oscar® nomination for Best Actor. His nomination was the first time a black actor had every earned a nomination in the Best Actor category. Five years later he would become the first black actor to win the Best Actor Oscar® for 1963's Lillies of the Field. In 1967, Poitier had three monster hits and was voted as top box office star of the year….once again a first for a black actor. And finally as the 1970s rolled along, Poitier turned his focus to behind the camera. Poitier would direct nine films from 1972 to 1990.
From pbs.org "More than an actor (and Academy-Award® winner), Sidney Poitier is an artist. A writer and director, a thinker and critic, a humanitarian and diplomat, his presence as a cultural icon has long been one of protest and humanity. His career defined and documented the modern history of blacks in American film, and his depiction of proud and powerful characters was and remains revolutionary."
His IMDb page shows 55 acting credits and 9 directing credits from 1947-2015. This page will rank 46 Sidney Poitier movies from Best to Worst in six different sortable columns of information. Television appearances,cameos and straight to DVD movies were not included in the rankings.
Sidney Poitier Movies Can Be Ranked 6 Ways In This Table
The really cool thing about this table is that it is "user-sortable". Rank the movies anyway you want.
Sort Sidney Poitier movies by his co-star in the movie
Sort Sidney Poitier movies by adjusted domestic box office grosses using current movie ticket cost
Sort Sidney Poitier movies by yearly box office rank
Sort Sidney Poitier movies how they were received by critics and audiences.  60% rating or higher should indicate a good movie
Sort by how many Oscar® nominations and how many Oscar® wins each Sidney Poitier movie received.
Sort Sidney Poitier movies by Ultimate Movie Rankings (UMR) Score.  UMR Score puts box office, reviews and awards into a mathematical equation and gives each movie a score.
R
Movie (Year)
UMR Co-Star Links
Adj. B.O. Worldwide (mil)
Review
Oscar Nom / Win
UMR Score
R
Movie (Year)
UMR Co-Star Links
Actual B.O. Domestic (mil)
Adj. B.O. Domestic (mil)
Adj. B.O. Worldwide (mil)
B.O. Rank by Year
Review
Oscar Nom / Win
UMR Score
S
1
In the Heat of the Night (1967)


AA Best Picture Win

Rod Steiger &
Warren Oates
24.00
177.9
177.90
11
84
07 / 05
99.6
2
Guess Who's Coming to Dinner (1967)


AA Best Picture Nom

Spencer Tracy &
Katherine Hepburn
52.50
389.2
389.20
4
71
10 / 02
98.7
3
To Sir, with Love (1967)
Judy Geesen
47.80
354.0
354.00
7
83
00 / 00
96.9
4
The Defiant Ones (1958)


AA Best Picture Nom




AA Best Actor Nom

Tony Curtis
7.90
117.5
117.50
26
77
09 / 02
96.7
6
A Patch of Blue (1965)
Shelley Winters
17.00
149.7
149.70
12
87
05 / 01
96.2
5
Blackboard Jungle (1955)
Glenn Ford
15.60
269.1
269.10
12
75
04 / 00
95.8
7
Lilies of the Field (1963)


AA Best Picture Nom




AA Best Actor Win

Lilia Skala
8.10
84.9
84.90
32
85
05 / 01
94.0
8
Stir Crazy (1980)
Gene Wilder &
Richard Pryor
101.30
349.5
349.50
4
67
00 / 00
92.9
9
Porgy and Bess (1959)
Dorothy Dandridge &
Sammy Davis, Jr.
8.30
123.9
123.90
28
77
04 / 01
91.9
10
Let's Do It Again (1975)
Bill Cosby
35.80
156.5
156.50
13
71
00 / 00
89.4
Stats and Possibly Interesting Things From The Above Sidney Poitier Table
Fifteen Sidney Poitier movies crossed the magical $100 million domestic gross mark.  That is a percentage of 32.60% of his movies listed. Guess Who's Coming to Dinner (1967) was his biggest box office hit.
An average Sidney Poitier movie grosses $83.90 million in adjusted box office gross.
Using RottenTomatoes.com's 60% fresh meter.  27 Sidney Poitier movies are rated as good movies…or 58.56% of his movies.  In the Heat of the Night (1967) is his highest rated movie while Ghost Dad (1990) is his lowest rated movie.
Twelve Sidney Poitier movies received at least one Oscar® nomination in any category…..or 26.08% of his movies.
Six Sidney Poitier movies won at least one Oscar® in any category…..or 13.04% of his movies.
A "good movie" Ultimate Movie Rankings (UMR) Score is 60.00.  20 Sidney Poitier movies scored higher that average….or 43.47% of his movies.  In the Heat of the Night (1967) got the the highest UMR Score while Fast Forward (1985) got the lowest UMR Score.
Possibly Interesting Facts About Sidney Poitier
1. On the American Film Institutes 25 Greatest Male Stars of All-Time poll….they ranked Sidney Poitier as the 22nd greatest star.
2. If you have ever played the Kevin Bacon game….Sidney Poitier is a great source of possible links….check out some of his co-stars. Richard Widmark(3 times), Glenn Ford, Clark Gable, Paul Newman, Charlton Heston, Rod Steiger, James Garner, Spencer Tracy, Katharine Hepburn, Shelly Winters, Richard Gere, Bruce Willis, Robert Redford, Tony Curtis, Michael Caine and Sammy Davis Jr.
3. Sidney Poitier has been married twice in his life. His first marriage to Juanita Hardy lasted from 1950-1965….they have 4 daughters. His second marriage was in 1976 to Joanna Shimkus…. they also have 2 daughters.
4. Since retiring from acting, Poitier has been very busy. From 1998 to 2003 he was on the Disney Board of Directors. He has also been the Bahamas Ambassador to Japan and UNESCO since 1997…..he still holds that position.
5. In 2002 he was awarded a Honorary Oscar®…."For his extraordinary performances and unique presence on the screen and for representing the industry with dignity, style and intelligence"
6. Sidney Poitier was appointed a Knight Commander of the Order of the British Empire in 1974. Sidney Poitier was one of the founders of First Artist Production Company along with his friends Paul Newman, Barbra Streisand and Steve McQueen.
7. Sidney Poitier was nominated for two Oscars® for acting and six Golden Globe® nominations for acting. He won one Oscar® and one Golden Globe® and they were for the same movie….1963's Lillies of the Field.

8. When Sidney Poitier appeared as a high school student in his first box office hit …..1955's The Blackboard Jungle….he was almost 30 years old.
9. Of all the movies Sidney Poitier has appeared in….his personal favorite is 1967's In the Heat of the Night. Speaking of 1967….for the first time ever in doing these hubs….an actor's top three Movie Score movies came from one year….1967. #1 Guess Who's Coming To Dinner, #2 In the Heat of the Night, and #3 To Sir With Love were all made in 1967.
Academy Award® and Oscar® are the registered trademarks of the Academy of Motion Arts and Sciences.  Golden Globes® are the registered trademark and service mark of the Hollywood Foreign Press. 
1,195 total views, 0 views today
(Visited 19,385 times)