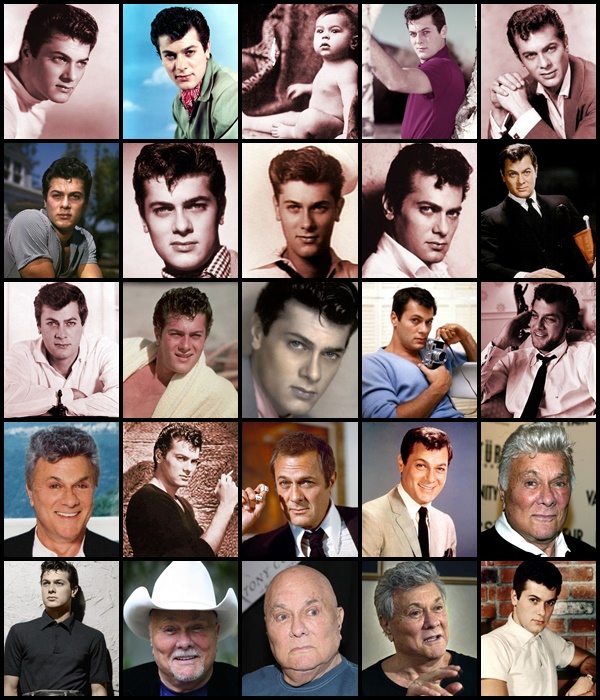 Want to know the best Tony Curtis movies?  How about the worst Tony Curtis movies?  Curious about Tony Curtis box office grosses or which Tony Curtis movie picked up the most Oscar® nominations? Need to know which Tony Curtis movie got the best reviews from critics and audiences and which got the worst reviews? Well you have come to the right place….because we have all of that information.
Tony Curtis (1925-2010) was an Oscar®-nominated American actor whose career spanned over 7 decades.  His IMDb page shows 128 acting credits from 1949-2008. This page will rank 61 Tony Curtis movies from Best to Worst in six different sortable columns of information. Television shows, shorts, cameos and movies that were not released in theaters were not included in the rankings.  This page was requested many moons ago by Dan and many other people.

Tony Curtis Movies Can Be Ranked 6 Ways In This Table
The really cool thing about this table is that it is "user-sortable". Rank the movies anyway you want.
Sort Tony Curtis movies by co-stars of his movies.
Sort Tony Curtis movies by adjusted domestic box office grosses using current movie ticket cost (in millions)
Sort Tony Curtis movies by yearly domestic box office rank
Sort Tony Curtis movies how they were received by critics and audiences.  60% rating or higher should indicate a good movie.
Sort by how many Oscar® nominations each Tony Curtis movie received and how many Oscar® wins each Tony Curtis movie won.
Sort Tony Curtis movies by Ultimate Movie Rankings (UMR) Score.  UMR Score puts box office, reviews and awards into a mathematical equation and gives each movie a score.
Stats and Possibly Interesting Things From The Above Tony Curtis Table
Sixteen Tony Curtis movies crossed the magical $100 million domestic gross mark.  That is a percentage of 26.23% of his movies listed. Spartacus (1960) was easily his biggest box office hit when looking at adjusted domestic box office gross.
An average Tony Curtis movie grosses $85.80 million in adjusted box office gross.
Using RottenTomatoes.com's 60% fresh meter.  31 of Tony Curtis movies are rated as good movies…or 50.81% of his movies. Some Like It Hot (1959) is his highest rated movie while Sextette (1978) was his lowest rated movie.
Eight Tony Curtis movies received at least one Oscar® nomination in any category…..or 13.11% of his movies.
Four Tony Curtis movies won at least one Oscar® in any category…..or 6.55% of his movies.
An average Ultimate Movie Rankings (UMR) Score is 40.00. 25 Tony Curtis movies scored higher than that average….or 40.98% of his movies. Spartacus (1960) got the the highest UMR Score (just barely over Some Like It Hot)  while Sextette (1978) got the lowest UMR Score.
Ten Possibly Interesting Facts About Tony Curtis
1. Bernard Schwartz was born in the Bronx, New York in 1925.

2. How Bernard Schwartz became Tony Curtis?  The first name was from the novel Anthony Adverse and "Curtis" was from Kurtz. a surname in his mother's family. In Curtis' first film roles, he was credited as "Anthony Curtis"….which was quickly shortened to "Tony Curtis".

3. Tony Curtis joined the United States Navy after the attack on Pearl Harbor.  He joined the Pacific submarine force after he was inspired by Cary Grant in Destination Tokyo and Tyrone Power in Crash Dive.   Curtis witnessed the Japanese surrender in Tokyo Bay from his ship's (USS Proteus) signal bridge about a mile away.
4. After World War 2 ended, Tony Curtis attended City College of New York and studied acting at The New School.  His contemporaries included Elaine Stritch, Harry Belafonte, Walter Matthau, Beatrice Arthur, and Rod Steiger.

5. Tony Curtis was quickly discovered by talent agent Joyce Selznick (niece of David O. Selznick).  He arrived in Hollywood at the age of 23.

6. Tony Curtis was voted as a Top 25 Box Office star 5 times on Quigley Publications' annual poll: 1954 (23rd), 1959 (18th), 1960 (6th), 1961 (9th) and 1962 (18th).

7. Tony Curtis broke a Hollywood taboo in the 1950s by insisting that an African-American actor, Sidney Poitier, have co-starring billing next to him in the movie 1958's The Defiant Ones.

8. Tony Curtis was married six times…..he had six children.  One of his children is Jamie Lee Curtis.

9. Tony Curtis' favorite actor was Cary Grant.  His favorite movie was Grant's Gunga Din.

10. Tony Curtis was buried with some of his favorite possessions – a Stetson hat, an Armani scarf, driving gloves, an iPhone and a copy of his favorite novel, Anthony Adverse.

Check out Tony Curtis' career compared to current and classic actors.  Most 100 Million Dollar Movies of All-Time.
Academy Award® and Oscar® are the registered trademarks of the Academy of Motion Arts and Sciences.
Editor's note:  Calculating adjusted is not an exact science.  Most of our calculations are based on solid sources that we have collected over the years.  A few of his early 1950s low budget movies required us to use biographies, movie books, articles and other sources that do not provide the best statistics.   So please keep that in mind when you are looking at the grosses of some of his low budget B movies.
416 total views, 0 views today
(Visited 12,120 times)