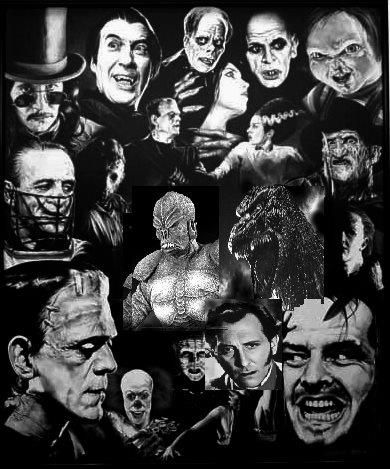 Want to know the best Horror Movies?  How about the worst Horror Movies?  Curious about Horror Movies box office grosses or which Horror Movies movie picked up the most Oscar® nominations? Need to know which Horror Movies movie got the best reviews from critics and audiences? Well you have come to the right place….because we have all of that information…and a lot more.
This page looks at the Top 100 Horror Movies….statistically speaking.  What does that mean?  We looked at box office grosses, reviews from critics & audiences and award recognition and put them in our witches cauldron.  We mixed all the stats together and came up with our Top 100 Horror Movies.  Our top ranked Horror Movie….was a box office hit, was loved by critics and audiences and even managed to win the Best Picture Oscar®.  The following table shows all the stats involved that helped us reach our rankings.  Obviously they are way more Horror Movies out there.  Is your favorite Horror Movie missing?….just commented at the bottom and we will research and see if your suggestion can crack our Top 100 Horror Movies.
Drivel Part:  Years ago we got a request from Steve Lensman to do a Horror Movie UMR page.  The last four or five Octobers we have thought we should do that Horror Movie page and every year before we knew it…Halloween would be over!  Well today, WoC (Wife of Cogerson) was working on the database and pulling in information on 1000s of movies.  When I saw that she was pulling in information on Thrillers….I casually mentioned….."You should do that with Horror Movies…Steve has been asking for that page for years".  Well….three hours later….WoC had an UMR page with almost 400 Horror movies.  So for the first time ever…..UMR has a page that was not completed by Cogerson….nope this baby belongs to WoC.  So let me be the first to say it….GREAT JOB WoC!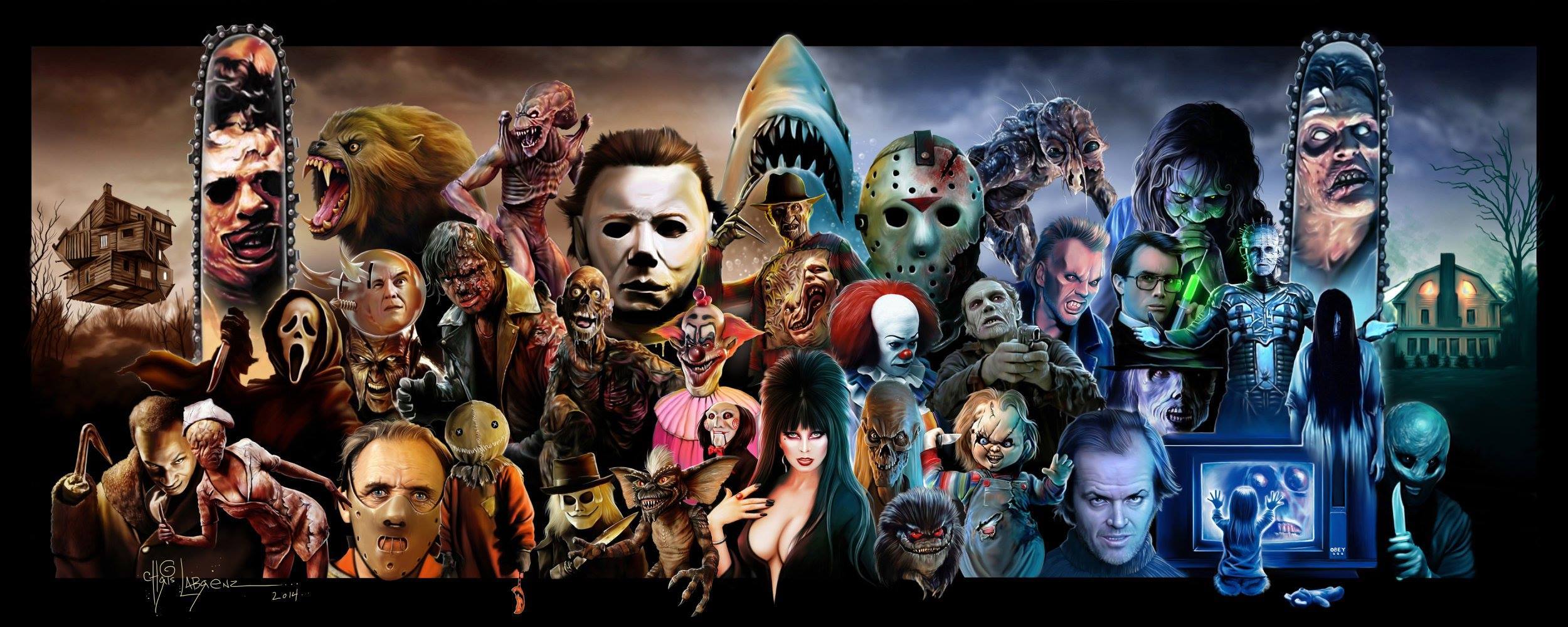 Horror Movies Can Be Ranked 6 Ways In This Table
The really cool thing about this table is that it is "user-sortable". Rank the movies anyway you want.
Sort Horror Movies by the stars of the movies
Sort Horror Movies by adjusted domestic box office grosses based on actual ticket sells (in millions)
Sort Horror Movies by yearly domestic box office rank
Sort Horror Movies by how they were received by critics and audiences.  60% rating or higher should indicate a good movie
Sort by how many Oscar® nominations and how many Oscar® wins each Horror Movie received.
Sort Horror Movies movies by Ultimate Movie Rankings (UMR) Score.  UMR Score puts box office, reviews and awards into a mathematical equation and gives each movie a score.
*** During our update we lost our easy to find search box.  Well WoC did some work and found a new way to search through this massive table.  In the second row….first column…you will see "Movie (Year)".  You can type in a search word here and it will search the table.
R
Movie (Year)
UMR Co-Star Links
Adj. B.O. Worldwide (mil)
Review
Oscar Nom / Win
UMR Score
R
Movie (Year)
UMR Co-Star Links
Actual B.O. Domestic (mil)
Adj. B.O. Domestic (mil)
Adj. B.O. Worldwide (mil)
B.O. Rank by Year
Review
Oscar Nom / Win
UMR Score
S
1
The Silence of the Lambs (1991)


AA Best Picture Win

Anthony Hopkins &
Jodie Foster
130.70
268.6
560.40
4
91
07 / 05
99.8
2
Jaws (1975)


AA Best Picture Nom

Robert Shaw &
Roy Scheider &

269.00
1,135.0
2,023.90
1
93
04 / 03
99.6
3
Aliens (1986)
Sigourney Weaver &
Michael Biehn
141.00
328.7
328.70
3
94
07 / 02
98.9
4
The Sixth Sense (1999)


AA Best Picture Nom

Bruce Willis &
Haley Joel Osment
293.50
501.7
1,150.20
2
81
06 / 00
98.7
5
Psycho (1960)
Janet Leigh &
Anthony Perkins
32.00
401.2
626.80
2
94
04 / 00
98.6
6
The Exorcist (1973)
Ellen Burstyn &
Linda Blair
193.00
943.2
1,959.70
1
86
10 / 02
98.5
7
Alien (1979)
Sigourney Weaver &
John Hurt
106.10
365.5
365.50
2
92
02 / 01
98.4
8
Rosemary's Baby (1968)
Ruth Gordon &
Mia Farrow
42.90
283.0
283.00
9
89
02 / 01
98.2
9
Bride of Frankenstein (1935)
Elsa Lanchester &
Boris Karloff
5.70
206.0
206.00
2
85
01 / 00
97.4
10
King Kong (2005)
Naomi Watts &
Jack Black
218.10
294.7
294.70
5
78
04 / 03
97.4
Breakdown by decades:
1920s……3 movies
1930s……9 movies
1940s……3 movies
1950s……8 movies
1960s……7 movies
1970s…..14 movies
1980s…..12 movies
1990s…..15 movies
2000s…..14 movies
2010s…..14 movies
870 total views, 0 views today
(Visited 6,777 times)