34 Amazing Kurt Russell Facts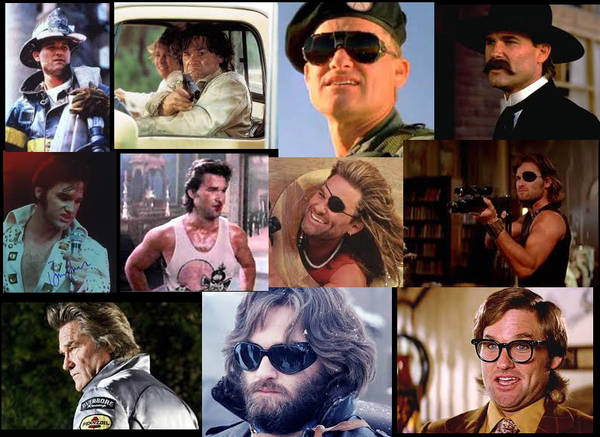 The other day my wife and I were on a walk.  Me – "You know I think Kurt Russell should write a book about his life.  I have been listening to some of his interviews and the man has some awesome stories.  He hung out with Elvis and Walt Disney when he was a kid…..  Wife – "You should write an UMR (Ultimate Movie Rankings) page on him." Me – "Nah…..his stories are awesome coming from him…not from me".  Wife – "I don't know….sounds like a good subject for UMR."   So in the end I listened to the wife and here is our Amazing Kurt Russell Facts page.
Bing Russell – Kurt Russell's dad was a successful actor and a successful minor league baseball team owner.  As a boy, Bing was dubbed an unofficial mascot of the New York Yankees, becoming good friends with such players as Lefty Gomez and Joe DiMaggio. Also, Lou Gehrig, who was already weakened by illness, gave him the last bat he used to hit a home run before his retirement.  As an actor, Bing appeared on television's Bonanza from 1961 to 1972, was in 1960's The Magnificent Seven and appeared with Kurt in the 1979 television movie Elvis.
Bull Durham –  Kurt Russell helped Ron Shelton develop the Bull Durham script and was originally penciled in to play Crash, the part that went to Kevin Costner. After the film was made, Russell was so impressed, he actually wrote fan letters to Costner and Shelton.
Commentaries on DVDs – Kurt Russell was one of the first stars to do DVD audio commentaries.  The Russell/John Carpenter commentary on 1982's The Thing is one of the best commentaries EVER!
Dexter Riley Trilogy – Kurt Russell played Dexter Riley in three Disney movies:  1969's The Computer Who Wore Shoes, 1972's Now You See Him, Now You Don't and 1975's The Strongest Man In The World.
Elvis Presley –  (1) One of Kurt's first movies was in Presley's 1963 movie It Happened At The World's Fair.  Kurt was the kid that kicked The King in the shins.  While making the movie Kurt and Elvis would play catch between scenes.  (2) Kurt received an Emmy nomination for playing Elvis in 1979's Elvis.  (3) Kurt provided the voice of Elvis in 1994's Forrest Gump.  (4) In 3,000 Miles To Graceland….Kurt played Elvis' illegitimate son.
Fire Stunts – Kurt Russell filmed so many of his fire scenes in 1991's Backdraft, that he was credited as a stunt performer as well as the lead actor in the movie.
Gilligan's Island – One of Kurt Russell's first acting roles was playing "Jungle Boy" on the television show Gilligan's Island.  "Jungle Boy" got off the island in only one episode.
GoGi Wines – Kurt Russell has developed a passion for wine making.  He has been making GoGi wine since the late 2000s.
Goldie Hawn – Kurt and Goldie fell in love while making 1983's Swing Shift…..they have been a couple ever since.  Their blended family includes 4 children and lots of grand babies.  Their first date was interrupted by a police officer…see that story here.
Guardians of the Galaxy Volume 2 – Kurt Russell has appeared in many Disney films over the past fifty-one years. 2017's Guardians of the Galaxy Vol. 2 will be his first Disney film, and superhero film, in twelve years. He appeared in Disney's Sky High in 2005.
Hero Icon Universe – Kurt Russell on his idea to do an Action Hero Icon Universe – "Years ago I did think that it would be, and nobody would listen to me, I thought it'd be great to sort of take a bunch of the characters… guys like Bruce Willis and Stallone and Schwarzenegger and whatever. They all had one best character in the action-ary world… I thought it'd be fun to put those guys together. That would've been a realistic version of what Marvel did but it was like talking to a wall… It was a little ahead of its time."  Marvel thought it was a good idea.
James Stewart – Kurt Russell was in James Stewart's last leading man performance, 1971's Fool's Parade.  Stewart was billed 1st while Kurt was billed 5th.
John Carpenter – John Carpenter is one of the main people that helped Kurt Russell break out of the "Disney Kid" label that he had been tagged. First Carpenter directed Russell in the 1979 television movie Elvis…then he shattered the Russell Disney image when he directed Russell as Snake Plissken in 1981's Escape to New York.  They went on to make three more movies…..the cult classics The Thing and Big Trouble in Little China….as well as Escape to Los Angeles.
Kate Hudson – Kurt Russell has been Kate Hudson's "Paw" since she was 4 years old.  Kurt walked Kate down the aisle for her wedding. Hudson named her son Ryder "Russell" Robinson.  Kate directed Kurt in the short film "Cutlass".  Kate and Kurt appeared together in 2016's Deepwater Horizon.  Kate Hudson is Goldie Hawn's daughter.
Los Angels Angels – Kurt played minor league baseball in the Angels' farm system from 1971 to 1973.  He was hitting .563 in Double A when an injury ended his baseball career.  He ended his baseball career as a lifetime .292 hitter.  Just in case you were wondering….his fielding percentage was a very low .929%.
Martin Riggs – Kurt Russell turned down the role of Martin Riggs in 1987's Lethal Weapon. In 1989, Russell played a version of Riggs in Tango and Cash.  28 years later Tango and Cash (Sly Stallone) would appear in 2017's Guardians of the Galaxy Volume 2.
Miracle – You get two Kurts for the price of one in 2004's Miracle.  During the real-life ABC network broadcast of the game between the U.S. and Soviet Union at the 1980 Olympics, ABC ran two commercials for a made-for-television film called 1979's Elvis, that was to be broadcast on the Monday following the end of the Olympics. Kurt Russell starred as Elvis Presley in the film, and is shown in the commercials, in addition to playing Herb Brooks, who was the coach of the U.S. Olympic Hockey team.
Mr. Nobody – Kurt Russell is now known to a new generation of movie goers as Mr. Nobody from the Fast and the Furious movies.  This new generation has no idea about his previous 50 year movie career….but they know Mr. Nobody.
The One and Only, Genuine, Original Family Band  – Made in 1968 the movie features appearances by Kurt and Goldie Hawn. This is where Kurt Russell first started taking notice of Goldie Hawn.  Granted she was 23 and he was 15.
Pilot – Kurt Russell has been a licensed pilot since 1988.  Makes you appreciate the beginning and the ending of Executive Decision more.
Portland Mavericks – Kurt's dad Bing bought the franchise rights for the minor league baseball team in Portland, Oregon for $500.  Bing turned the Mavericks into one of the most successful independent baseball teams ever.  Kurt played for the Mavericks in 1973.  There is an excellent baseball documentary on the Mavericks.  It can be found on NetFlixx and is called The Battered Bastards of Baseball.
Princess Diana – Met Prince Charles and Princess Diana at a Royal screening of 1991's Backdraft.  He actually sat between them during the screening.  After the screening he suggested to Princess Diana that they should visit their ranch in Colorado.  Princess Diana, Prince Harry and Prince William took him up on the offer and eventually took a 10 day vacation staying at Kurt and Goldie's ranch.
Quentin Tarantino – Kurt Russell has starred in 25% of Quentin Tarantino's full length movies….granted that is only 2 movies….but the percentage looks good. The two movies are 2007's Deathproof and 2015's The Hateful Eight.
Season Hubley – Kurt Russell's first wife, Season Hubley, can be seen in two Kurt projects.  She played Priscilla Presley in 1979's Elvis and played the "Girl In Chock Full O'Nuts" who gets sucked into the floor in 1981's Escape From New York.
Soldier – Kurt Russell broke his ankle during the first week of shooting of 1988's Soldier. He would take 3 years off after filming the movie.  Despite being on the screen for 85% of the time in Soldier…Kurt Russell only has 104 words of total dialogue in the entire movie.
Snake Plissken – Kurt Russell's favorite role is Snake Plissken from the "Escape From" movies.  At one point Clint Eastwood was in line to play Snake. Russell based his performance on Eastwood.  Snake's wardrobe was created by Russell…..including the eye patch.  Russell has used the eye patch three times…twice for Snake and once for Captain Ron.
Star Wars – Kurt Russell was one of the finalists for the Luke Skywalker and Han Solo roles in Star Wars.  While waiting for George Lucas to decide who would play the roles, Russell had to withdraw his name from consideration when he accepted a role on the short lived television series The Quest.  As Russell said…"I had to go to work".
3,000 Miles To Graceland – When asked which of his movies he did not really enjoy….he gave the honest answer of "I am not too fond of 3,000 Miles To Graceland".  After filming the movie, the film's producers let Russell and co-star Kevin Costner do different edits of the movie.  Russell's version concentrated on the love story and humor while Costner version concentrated on the action. In the end, the producers went with Costner's version.  I would like to see the Russell version.
The Thing – 1982's The Thing opened the same weekend as Blade Runner.  The similarities don't end there: both movies met with unfavorable reactions at the premiere, but became widely loved science fiction classics in the years to come.  Currently The Thing is rated as the 171st best movie on IMDb.  Both science fiction movies opened up weeks after another small unknown movie….E.T. The Extra-Terrestrial.
Tombstone – Kurt Russell is credited with saving Tombstone when the original director was fired from the production.  Without Russell's leadership on the set, the producers would have pulled the plug on Tombstone and Val Kilmer's Doc Holliday would have never seen the light of day.  Some have said Russell was the "ghost director" of Tombstone, but Russell has denied that.
UFO Sighting – Every UFO obsessive knows about the Phoenix Lights, a mass sighting that took place in 1997. As it turns out, Kurt Russell was the pilot who first reported what has since become one of the best-known UFO incidents. "I was flying [his son Oliver] to go see his girlfriend, and we were on approach," Russell explained. "I saw six lights over the airport in absolute uniform in a V shape. Oliver said to me — I was just looking at him, I was coming in, we're maybe a half a mile out — and Oliver said, 'Pa, what are those lights?'  "Then I kind of came out of my reverie and I said, 'I don't know what they are.' He said, 'Are we okay here?' And I said, 'Yeah, I'm gonna call in,' and I reported it."
Vanilla Sky – Kurt Russell agreed to do 2001's Vanilla Sky without reading the script.  Russell accepted the role because he had wanted to work with Tom Cruise and director Cameron Crowe.  Russell and Cruise had been friends for years and he had been impressed with Crowe when he had visited Kate Hudson on the set of Almost Famous.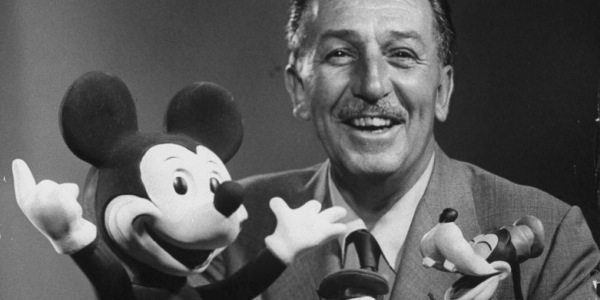 Walt Disney –  (1) Kurt Russell was signed to a 10 year contract with Disney by Walt Disney himself.  (2) Kurt and Disney would play ping pong together.  (3) Disney showed Kurt Russell an early version of Mary Poppins and asked what he thought of the movie. When Russell told him that his friends would not really like the movie….Disney went back in and added the dancing penguins.  (4) When Walt Disney passed away the Disney people found one of his last memos that he ever wrote on his desk.  It read:  "Kirt Russell……CIA-Mobley".
Wyatt Earp – Kurt Russell was such a fan of Wyatt Earp….that he named his son Wyatt Russell.   Wyatt Russell was a professional hockey player before joining the family business of acting.  Wyatt Russell has had 16 IMDb credits since 2013.  With 22 Jump Street and Everybody Wants Some! being highlights.
If you want to see a statistical look at Kurt's entire movie career then check out our Kurt Russell UMR Movie Page.
201 total views, 0 views today
(Visited 31,382 times)