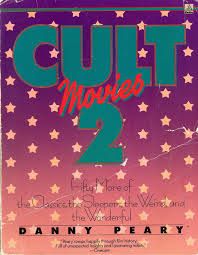 When I was going to college in the 1980s I actually got to briefly meet film author, Danny Peary, when he was promoting his Cult Movies Volume 2 book.  He appeared on my friend's college radio show.  At the time I was not aware of the Cult Movies books.  Over the last 30 years it seems I am always reading one of Peary's 3 volume Cult Movie books. Peary wrote Cult Movies: The Classics, the Sleepers, the Weird and the Wonderful in 1981, Cult Movies 2 in 1983, and Cult Movies 3 in 1988….overall he lists 200 movies in those books.
Very recently I was thinking …"Damn he has not written a new Cult Movie book in over 25 years…..I wonder if he is going to write a new book?  I wonder which movies would make Volume 4?  So I decided to make my own list of possible Cult Movies Volume 4.  I decided to only look at movies that were made from 1988 to today.  I did some internet research…got suggestions from some movie experts like HubPages' Steve Lensman and Letterboxd's Todd Gaines.  After about a week I came up with over 70 possible movies.  Since Cult Movies 2 and 3 list 50 movies….I figured I needed to come up with 50 as well.  So some movies fell off the list.  The rest of the movies are listed below. 
Each movie has a IMDb summary, a You Tube video and some brief comments about the selected movie.  Hopefully one day Danny Peary will write another volume in his movie book series.  If that day occurs….I wonder how many of these selected movies will make that book.  Until that day….I guess I will continue to keep my eyes open in search of the latest and greatest cult movies.  So here you go…..my picks for the next volume of Danny Peary's Cult Movies book.
Movie #1 Akira (1988) IMDb Summary: A secret military project endangers Neo-Tokyo when it turns a biker gang member into a rampaging psionic psychopath that only two kids and a group of psionics can stop.
My thoughts:  The animation in this one puts the Disney animators to shame.  This is the movie that introduced me to the legendary Katsuhiro Ohtomo. Great animation, great story, and great characters makes for a great movie.
Movie #2 American Psycho (2000) IMDb Summary: A wealthy New York investment banking executive hides his alternate psychopathic ego from his co-workers and friends as he escalates deeper into his illogical, gratuitous fantasies.
My thoughts:  Christian Bale shines in this one.  Highlights are the business card scene and the "Hip To Be Square" murder scene.  The ending of the movie confuses many people….but they certainly talk about it when it goes off.
Movie #3 Amelie (2001) IMDb Summary: Amelie, an innocent and naive girl in Paris, with her own sense of justice, decides to help those around her and along the way, discovers love.
My thoughts:  This movie blew me away when I first saw it.  Audrey Tautou is awesome in this one.  Quirky and fun….a movie that Wes Anderson could have written and directed.  I thought Tautou would  become this generation's Audrey Hepburn…that has not happened yet!
Movie #4 The Big Lebowski (1998) IMDb Summary: "Dude" Lebowski, mistaken for a millionaire Lebowski, seeks restitution for his ruined rug and enlists his bowling buddies to help get it.
My Thoughts:  I have seen this Coen brothers movie a few times….but have yet to figure out why people love this movie so much….but I admit this one has a huge following and it keeps getting bigger as the years pass.
Movie #5 Bottle Rocket (1996) IMDb Summary: Focusing on a trio of friends and their elaborate plan to pull off a simple robbery and go on the run.
My thoughts:  I am one of the few people to actually see this movie in theaters.  The first movie for director/writer Wes Anderson and actors Luke and Owen Wilson.  Owen's Dignan character easily steals the show.  No matter how bad things go…Dignan always has a plan.
Movie #6 Bully (2001) IMDb Summary: Based on a true story. Naive teenagers plot to murder one of their own, who has been too much of a bully to them.
Todd Gaines' Thoughts: One of Brad Renfro's best performances. Macaulay Culkin's ex-wife gets naked. Classic Larry Clark theme of graphic sex amongst teens 🙂 F word is said 274 times!
Movie #7 The 'Burbs (1989) IMDb Summary: An overstressed suburbanite and his paramilitaric neighbor struggle to prove their paranoid theory that the new family in town is a front for a cannibalistic cult.
My Thoughts: One of my favorite Tom Hanks movies. I saw it in the theaters and actually did not like it all.  However repeat viewings on VHS and DVD have changed my mind about this movie.  Best line in movie?  Classic quote: Mrs. Peterson – "He will not come out until he resembles that man that I married." Art Weingartner – "We don't have that kinda time!"
Movie #8 City of God (2002) IMDb Summary: Two boys growing up in a violent neighborhood of Rio de Janeiro take different paths: one becomes a photographer, the other a drug dealer.
My Thoughts:  You will never look at Rio de Janeiro the same after watching this movie. 15 minutes from paradise is hell on Earth.  This is the 21st highest rated movie on IMDb….it is a shame that so many people have not seen this movie.
Movie #9 The City of Lost Children (1995) IMDb Summary: A scientist in a surrealist society kidnaps children to steal their dreams, hoping that they slow his aging process.
My Thoughts:  This is a visually stunning movie and one of two Jean-Pierre-Jeunet's movies to make the list. This is a movie that seems to be heavily influenced by Terry Gilliam. It got a very limited release in the United States….but remarkably there is a PlayStation game out there based on this movie.
Movie #10 Children of Men (2006) IMDb Summary: In 2027, in a chaotic world in which women have become somehow infertile, a former activist agrees to help transport a miraculously pregnant woman to a sanctuary at sea.
My Thoughts:  This is one intense ride.  After seeing this one, I thought Clive Owen was on his way to superstardom….don't think that happened.  So many great scenes in this one…this one will have you doing some serious thinking when it ends.  I remember hoping Sir Michael Caine would pick up an Oscar® nomination for this one…but that did not happen either.
Movie #11 Clerks (1994) IMDb Summary: A day in the lives of two convenience clerks named Dante and Randal as they annoy customers, discuss movies, and play hockey on the store roof.
My Thoughts:  One of the most successful low-budget movies of all time. I remember when I discovered this movie on VHS…it was the type of movie that you felt compelled to share with all of your friends. I must have loaned out my tape over 30 times….and it always came back with glowing reviews. Jeff Anderson's Randal character steals the show as the worst retail clerk in the history of retail clerks!
Movie #12 Dazed and Confused (1993) IMDb Summary: The adventures of incoming high school and junior high students on the last day of school, in May of 1976.
My Thoughts: After hearing about this movie for years…I finally watched it about a year ago. Give me Fast Times over this one…thank you. Cult status seems to come from the soon to be famous cast….Matthew McConaughey, Ben Affleck, and Milla Jovovich.  
Movie #13 Donnie Darko (2001)  IMDb Summary: A troubled teenager is plagued by visions of a large bunny rabbit that manipulates him to commit a series of crimes, after narrowly escaping a bizarre accident.
My Thoughts:  This a strange movie that gets better with each additional viewing.  One of two Jake Gyllenhaal movies to make this list.  Look for Seth Rogen in a small role.
Movie #14 Enemy (2013)  IMDb Summary: A man seeks out his exact look-alike after spotting him in a movie.
My Thoughts:   The newest movies to make this list. I actually did not care for this one too much on my first viewing, but a quick Internet search reveals that many people not only love this movie but have spent some serious time trying to figure out what the movie is all about.  I am sure that I will enjoy my second viewing much more. This is a movie that David Lynch would love!  Added bonus: you get Jake Gyllenhaal in two roles.
Movie #15 Eyes Wide Shut (1999) IMDb Summary: A New York City doctor, who is married to an art curator, pushes himself on a harrowing and dangerous night-long odyssey of sexual and moral discovery after his wife admits that she once almost cheated on him.
My Thoughts:  I think every single Stanley Kubrick movie could be considered a cult movie…but this is the last one.  Knowing that Kubrick paid attention to every detail in his movies…ask yourself why there is a Christmas tree in almost every scene in the movie.
Movie #16 Field of Dreams (1989) IMDb Summary: An Iowa corn farmer, hearing voices, interprets them as a command to build a baseball diamond in his fields; he does, and the Chicago Black Sox come.
My Thoughts:  Not sure this movie is a cult movie?  Please realize that the baseball field built for the movie is now one of the best and maybe only tourist attraction in Iowa.  Hard to believe this movie is now over 25 years old.
Movie #17 Fight Club (1999) IMDb Summary: An insomniac office worker looking for a way to change his life crosses paths with a devil-may-care soap maker and they form an underground fight club that evolves into something much, much more.
My Thoughts: This movie's cult following has grown so quickly that many people are surprised that it crashed and burned when it was released in theaters. Sits in 10th place on IMDb's Greatest Movies list.
Movie #18 Heat (1995) IMDb Summary: A group of professional bank robbers start to feel the heat from police when they unknowingly leave a clue at their latest heist.
My Thoughts: I love this movie.  Seeing Al Pacino and Robert DeNiro together is a joy to watch.  Granted, they do not have many scenes together.  Solid support from Val Kilmer, Tom Sizemore, Jon Voight and many others….including a very young Natalie Portman.  The final shootout in the streets of Los Angeles is one of the greatest action scenes ever
Movie #19 Heathers (1988) IMDb Summary: A girl who half-heartedly tries to be part of the "in crowd" of her school meets a rebel who teaches her a more devious way to play social politics; killing the popular kids.
My Thoughts: Wow! Christian Slater get off to a great start in his career.  He pretty much does a Jack Nicholson imitation thoughout the movie…but it works in this movie.  I thought Slater was destined for greatness…instead he is the King of Straight To DVD Movies and Failed Television series….but he shines in this one.
Movie #20 High Fidelty (2000) IMDb Summary: Rob, a record store owner and compulsive list maker, recounts his top five breakups, including the one in progress.
My Thoughts: I am a huge John Cusack fan…so I am glad that he has two movies on this list.  High Fidelty is one of the best comedy dramas of the last 25 years.  Cusack is awesome….but Jack Black and Tim Robbins steal the show.  I have yet to meet the person that does not think this movie is great…..movie barely made a dent at the box office, but has developed a pretty impressive cult following over the last 10 plus years
Movie #21 Howl's Moving Castle (2004) IMDb Summary: When an unconfident young woman is cursed with an old body by a spiteful witch, her only chance of breaking the spell lies with a self-indulgent yet insecure young wizard and his companions in his legged, walking home.
Andrea R.'s Thoughts: "I don't have words to express what I felt when coming out of the cinema, Howl's Moving Castle is an absolutely fantastic film and is easily my favourite Miyazaki film."  The American version gives us Christian Bale and Billy Crystal. Is ranked 149th on IMDb's Greatest Movies chart.
Movie #22 Kids (1995) IMDb Summary: A day in the life of a group of teens as they travel around New York City skating, drinking, smoking, and deflowering virgins.
Todd Gaines' Thoughts: "Larry Clark's directorial debut. The guy who directed Spring Breakers wrote the screenplay. Characters such as Telly the Virgin Surgeon & Casper the Friendly Ghost deflower future celebs Chloe Sevigny & Rosario Dawson.
Movie #23 Kingdom of Heaven: The Director's Cut (2005) IMDb Summary: Balian of Ibelin travels to Jerusalem during the crusades of the 12th century, and there he finds himself as the defender of the city and its people.
My Thoughts:  The version that was in the theaters is ok…but when Ridley Scott released his director's cut…this movie started to develop a strong following.  Scott added almost 60 minutes of additional scenes.  The biggest winner is the lovely Eva Green as her performance really shines through in the director's cut…..plus her actions make more sense in the longer version.  Shockingly this has surpassed Gladiator as my favorite Ridley Scott movie.
Movie #24 Kiss Kiss Bang Bang (2005) IMDb Summary: A murder mystery brings together a private eye, a struggling actress, and a thief masquerading as an actor.
My Thoughts:  In my mind, this is the movie that got Robert Downey, Jr. back on the path to super stardom.  Shortly after this one was released he signed on to make Iron Man…and the rest is history.  Downey and Val Kilmer make a good team as they struggle to solve the mystery of the movie.
Movie #25 La Haine (1995) IMDb Summary: After local youth Abdel is beaten unconscious by police, a riot ensues on his estate during which a policeman loses his gun. The gun is found by Vinz who threatens he will kill a cop if Abdel dies.
Todd Gaines' Thoughts:  "Mesmerizing performance from Vincent Cassel. Cassel was actually 28 when playing a teenager in this one.  Shot in B&W. The French version of Kids.  La Haine is ranked 221st on IMDb's Greatest Movies list."
Movie #26 Leon: The Professional (1994) IMDb Summary: A professional assassin rescues a young girl whose family were killed in a police raid.
My Thoughts:  This one has one of the greatest child performances of all-time.  Natalie Portman in her first role is incredible.  The action is impressive ….and Gary Oldman as the bad guy is truly evil.  I am so glad this movie has been gaining an avid following over the years.  Jean Reno as Reno is equally impressive as Leon.
Movie #27 Looper (2012) IMDb Summary: In 2074, when the mob wants to get rid of someone, the target is sent into the past, where a hired gun awaits – someone like Joe – who one day learns the mob wants to 'close the loop' by sending back Joe's future self for assassination.
My Thoughts:  Time travel movies always get people thinking.  Looper is one of the best ones out there.  Bruce Willis plays Old Joe while Joseph Gordon-Levitt plays Young Joe.  Looper joins The Terminator as one of the best time travel movies.
Movie #28 Memento (2000) IMDb Summary: A man, suffering from short-term memory loss, uses notes and tattoos to hunt for the man he thinks killed his wife.
My Thoughts:  Christopher Nolan is now the current blockbuster king….but his 2nd movie is the one that got him noticed by film buffs.  This movie is told backwards….a truly impressive movie with outstanding performances from Guy Pearce and Joe Pantoliano.  A movie that people will still be talking about in 50 years.
Movie #29 Miller's Crossing (1990) IMDb Summary: Tom Regan, an advisor to a Prohibition-era crime boss, tries to keep the peace between warring mobs but gets caught in divided loyalties.
My Thoughts:  The 2nd of two Coen brothers movie on this list.  Unlike The Big Lebowski that I am not a fan of…I love this one.  Movie is filled with so many great scenes and performances.  It is difficult but my favorite scene is the Albert Finney "Danny Boy" scene.  Somehow this one barely reached $5 million at the box office….its cult following though has kept this one relevant.
Movie #30 Mulholland Drive (2001) IMDb Summary: After a car wreck on the winding Mulholland Drive renders a woman amnesiac, she and a perky Hollywood-hopeful search for clues and answers across Los Angeles in a twisting venture beyond dreams and reality.
My Thoughts:  Like Stanley Kubrick…it seems every David Lynch movie could be considered a cult movie.  Unlike other Lynch movies….Lynch provides 10 clues to unlocking Mulholland Drive.  I recommend checking out these clues before watching the movie again.  http://www.mulholland-drive.net/studies/10clues.html
Movie #31 Napoleon Dynamite (2004) IMDb Summary: A listless and alienated teenager decides to help his new friend win the class presidency in their small western high school, while he must deal with his bizarre family life back home.
My Thoughts:  I really really dislike this movie….I really really did not want to include it.  All of that being said….I recognize that Napoleon Dynamite has a serious avid following.  I have tried three times to join that following….but each additional viewing has me even less impressed than the previous viewing….I just do not get this one!
Movie #32 Office Space (1999) IMDb Summary: Comedic tale of company workers who hate their jobs and decide to rebel against their greedy boss.
My Thoughts:  This one comes from the very funny mind of Mike Judge. The type of movie that gets funnier with each additional viewing.  So many great lines in this one….hard to believe that this one is already over 15 years old.
Movie #33 Oldboy (2003) IMDb Summary: After being kidnapped and imprisoned for 15 years, Oh Dae-Su is released, only to find that he must find his captor in 5 days.
My Thoughts:  I made the mistake of seeing the Spike Lee remake before seeing this one.  I wrote a  review of  Oldboy on Letterboxd.com….based on comments of that review I quickly realized that I needed to watch the original.  The original is outstanding…it sits in 70th place on IMDb's top movies list.  Its avid following is very protective of this movie….you mention the Spike Lee movie….and they become hostile very, very quickly.
Movie #34 Only God Forgives (2013) IMDb Summary: Julian, a drug-smuggler thriving in Bangkok's criminal underworld, sees his life get even more complicated when his mother compels him to find and kill whoever is responsible for his brother's recent death.
My Thoughts:  When trying to come up with these 50 movies….I searched many places as well as getting recommendations from people who I respect for their movie knowledge…Only God Forgives was mentioned many many times.  So even though I really did not enjoy this movie….I am beginning to see that it has that avid cult following.  I guess I will be watching it again soon.

Movie #35 Pi (1998) IMDb Summary: A paranoid mathematician searches for a key number that will unlock the universal patterns found in nature.
My Thoughts:  My older brother was the person that first brought this movie to my attention.  He said the main character reminded him of me.  I do like numbers but I have never tried to drill a hole in my head…at least not yet anyway.  The directing debut of Darren Aronofsky.  A strange but fascinating movie.
Movie #36 Primer (2004) IMDb Summary: Four friends/fledgling entrepreneurs, knowing that there's something bigger and more innovative than the different error-checking devices they've built, wrestle over their new invention.
My Thoughts:  This very low budget time travel movie is a great example of how somebody can make a quality movie with very little money.  The budget for Primer was only $7,000.  I have seen this one many times and it is still a fun puzzle to put together.
Movie #37 Reservoir Dogs (1992) IMDb Summary: After a simple jewelery heist goes terribly wrong, the surviving criminals begin to suspect that one of them is a police informant.
My Thoughts:  This one blew me away when I first saw it. The first Quentin Tarantino-directed movie.  A movie that keeps getting better as it ages.  This one only grossed $2.8 million dollars at the box office….but almost everybody has seen the movie….now that is awesome word of mouth.  Ranked as the 75th best movie on IMDb's best movie poll.
Movie #38 The Room (2003) IMDb Summary: Johnny is a successful banker who lives happily in a San Francisco townhouse with his fiancée, Lisa. One day, inexplicably, she gets bored of him and decides to seduce Johnny's best friend, Mark. From there, nothing will be the same again.
My Thoughts:  I have never seen this one.  One of two movies on the list that are on the list because of how bad the movie is compared to how good the movie is…I have seen some video clips of the movie and it seems deserving of its 3.5 IMDb rating.  This one seems like out Plan Nine From Outer Space.
Movie #39 Say Anything…. (1989) IMDb Summary: A noble underachiever and a beautiful valedictorian fall in love the summer before she goes off to college.
My Thoughts: I can not believe this one is already over 25 years old.  Probably John Cusack's best role.  Great music, great scenes and great dialogue from director/writer Cameron Crowe.  Cusack holding up the boombox in the rain is etched forever in many people's minds.
Movie #40 Shawshank Redemption (1994) IMDb Summary: Two imprisoned men bond over a number of years, finding solace and eventual redemption through acts of common decency ….based on a Stephen King short story.

My Thoughts: Hard to believe but the movie that is ranked number one on IMDb's greatest movie list was not very popular at the box office.  Its climb to legendary status happened because of the tremendous word of mouth this movie got….AFTER it hit the home entertainment venues.  Tim Robbins and Morgan Freeman have never been better.  Watch the attached trailer…and tell me it does not make you want to watch it again right now!
Movie #41 Showgirls (1995) IMDb Summary: A young drifter, named Nomi, arrives in Las Vegas to become a dancer and soon sets about clawing and pushing her way to become the top of the Vegas showgirls.
My Thoughts: The final "bad" movie to make the list.  Has and earns its 4.5 IMDb rating.  I can not believe the director of Total Recall and RoboCop is behind this horrible movie.  Despite my low opinion of this one…..it has a very solid and passoniate cult following….and that is what this list is all about.
Movie #42 Sin City (2005) IMDb Summary: A film that explores the dark and miserable town, Basin City, and tells the story of three different people, all caught up in violent corruption.
My Thoughts: I remember seeing this movie in the theater and really enjoying it….but I felt that it might seem strange to like a movie so much that had cannibalism, gory violence, child abuse, and serial killers.  But based on the fact that this one has developed such a following means that I was not alone.  Mickey Rourke as Marv steals the show. I'm surprised it took 9 years to get the sequel made…..I wonder if that one will develop a following?
Movie #43 Speed Racer (2008) IMDb Summary: A young driver, Speed Racer, aspires to be champion of the racing world with the help of his family and his high-tech Mach 5 automobile.
My Thoughts: Expectations for Speed Racer were huge…but then it was released in theaters….and the bubble burst.  Since then a small but loyal following has developed.  A quick Internet search will get you stories of how Speed Racer is the Citizen Kane of our time.  How this masterpiece needs to be discovered.  Who knows? In 50 years…this could be the movie people are talking about. 
Movie #44 Tombstone (1993) IMDb Summary: A successful lawman's plans to retire anonymously in Tombstone, Arizona, are disrupted by the kind of outlaws he was famous for eliminating.
My Thoughts: There have been many many Wyatt Earp movies over the years.  Kurt Russell's Tombstone is one of the most entertaining ones. As an added bonus the movie is filled with many solid performances.  Val Kilmer's Doc Holliday, Michael Biehn's Johnny Ringo and Bill Paxton's Morgan Earp really shine.  This one is over 21 years old….but its fans grow each and every year.
Movie #45 Trainspotting (1996) IMDb Summary: Renton, deeply immersed in the Edinburgh drug scene, tries to clean up and get out, despite the allure of the drugs and influence of friends.
Steve Lensman's Thoughts: A wild, freeform trip through the darkest recesses of Edinburgh drug culture, a group of disaffected Scottish youths turn to heroin to escape the banalities of modern-day existence.  Plus you get a very young Ewan McGregor.
Movie #46 True Romance (1993) IMDb Summary: Clarence marries hooker Alabama, steals cocaine from her pimp, and tries to sell it in Hollywood, while the owners of the coke try to reclaim it.
My Thoughts:  I remember when the trailers for True Romance came out….I thought it was going to be a huge movie.  I went to the movie with 3 friends on opening night….I was shocked that the theater was almost empty.  The movie did not disappoint me…but it tanked at the box office.  I am so glad that over the years True Romance has reached cult status.  There is a Dennis Hopper / Christopher Walker scene that alone has reached cult status.
Movie #47 Twelve Monkeys (1995) IMDb Summary: In a future world devastated by disease, a convict is sent back in time to gather information about the man-made virus that wiped out most of the human population on the planet.
My Thoughts:  Is this one of three time travel movies on the list or is it one of two studies of a man losing his mind movies on the list?  The beauty of this Terry Gilliam movie is you can look at it both ways.  Brad Pitt got an Oscar® nomination for the movie…but to me…this is one of Bruce Willis' greatest movie performances.  I watch this one it least once a year.  I also highly recommend the documentary of the making of this movie.
Movie #48 28 Days Later… (2002) IMDb Summary: In a future world devastated by disease, a convict is sent back in time to gather information about the man-made virus that wiped out most of the human population on the planet.
My Thoughts: You can't have a cult movie list without it least one zombie movie.  This one comes from the mind of future Oscar® winning director Danny Boyle.  The first 3/4 of the movie are classic…the movie falls apart in the final quarter. 
Movie #49 V for Vendetta (2005) IMDb Summary: In a future British tyranny, a shadowy freedom fighter plots to overthrow it with the help of a young woman.
Steve Lensman's Thoughts: Based on the graphic novel by Alan Moore. Britain has become a fascist state ruled by a totalitarian government. A young woman (Natalie Portman) joins a masked vigilante known as "V" (Hugo Weaving) in his efforts to bring down the government.Would make a cool double bill with 1984 (John Hurt is in both), based on the famous novel by George Orwell. One of three Natalie Portman movies on this list.
Movie #50 Vampire's Kiss (1988) IMDb Summary: After an encounter with a neck-biter, a publishing executive thinks that he's turning into a vampire.
My Thoughts:  For a long time this was only known as the movie that Nicolas Cage ate a live cockroach.  Luckily over the years Cage's performance has become the driving force of its following…it is a performance that has to be seen to be believed.  Those that go into this movie expecting a vampire movie will be disappointed.  Those that go into the movie expecting to see a movie about a man that is slowly loses his mind will enjoy this one.  If you think your boss is bad….check out Cage as the crazed lunatic boss.
Some thoughts on the list above….and some of the movies that did not make the cut.
1.  Val Kilmer and Natalie Portman lead the way with 3 movies each on this list.
 2.  I have seen 45 of the 50 selected movies.
 3. Terry Gilliam's Brazil was made in 1985, Dune in 1984  and Gene Hackman's Hoosiers in 1986….they did not make the cut in Peary's Cult Movies 3 ….but I am sure these movies would make his Cult Movie 4 book….but my standard only let me pick movies made from 1988 to present.
 4.  Movies like Star Wars, Aliens, Pulp Fiction, Pretty Woman (my wife's contribution) Harry Potter, The Matrix and Die Hard…have huge followings….but they do not meet the criteria of a Danny Peary cult movie…..they are just too damn popular!
5.  Movies too new…but seem headed to cult movie status…..The Wolf of Wall Street, Snowpiercer and Spring Breakers.
6.  Other movies that were under consideration:  Spirited Away (but 2 Japanese animation movies made it), Mallrats (I picked Kevin Smith's debut instead), Super Troopers (sorry Scotty it did not make it), The Hurt Locker (it won Best Picture Oscar®…hard to be a cult movie), The Abyss (James Cameron's water odyssey was probably movie #52), Requim for a Dream (when I do a most depressing movie list this will be number one), Will Ferrell's Anchorman and Old School (funny movies that just fell short of the list), The Dark Backward and Dogtooth (when I do a most strange movie list these movies have guaranteed spots), The Player (Danny Peary loves Robert Altman…I am sure he would include it….but it falls just short of my list) Rushmore and The Royal Tenenbaums (Wes Anderson has one movie on the list) and Dark City (actually this one just popped into my head….if I were to do the list over again this one would make the list.
7.  Other suggestions from other people….I will continue listing these movies as the suggestions come in: The Machinist, Army of Darkness, Boondock Saints, Inland Empire and The Cube.
Academy Award® and Oscar® are the registered trademarks of the Academy of Motion Arts and Sciences.
Golden Globes® are the registered trademark and service mark of the Hollywood Foreign Press.
(Visited 13,885 times)