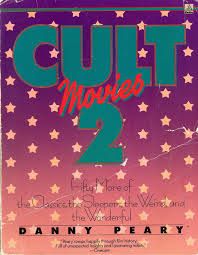 When I was going to college in the 1980s I actually got to briefly meet film author, Danny Peary, when he was promoting his Cult Movies Volume 2 book.  He appeared on my friend's college radio show.  At the time I was not aware of the Cult Movies books.  Over the last 30 years it seems I am always reading one of Peary's 3 volume Cult Movie books. Peary wrote Cult Movies: The Classics, the Sleepers, the Weird and the Wonderful in 1981, Cult Movies 2 in 1983, and Cult Movies 3 in 1988….overall he lists 200 movies in those books.
Very recently I was thinking …"Damn he has not written a new Cult Movie book in over 25 years…..I wonder if he is going to write a new book?  I wonder which movies would make Volume 4?  So I decided to make my own list of possible Cult Movies Volume 4.  I decided to only look at movies that were made from 1988 to today.  I did some internet research…got suggestions from some movie experts like HubPages' Steve Lensman and Letterboxd's Todd Gaines.  After about a week I came up with over 70 possible movies.  Since Cult Movies 2 and 3 list 50 movies….I figured I needed to come up with 50 as well.  So some movies fell off the list.  The rest of the movies are listed below. 
Each movie has a IMDb summary, a You Tube video and some brief comments about the selected movie.  Hopefully one day Danny Peary will write another volume in his movie book series.  If that day occurs….I wonder how many of these selected movies will make that book.  Until that day….I guess I will continue to keep my eyes open in search of the latest and greatest cult movies.  So here you go…..my picks for the next volume of Danny Peary's Cult Movies book.
Movie #1 Akira (1988) IMDb Summary: A secret military project endangers Neo-Tokyo when it turns a biker gang member into a rampaging psionic psychopath that only two kids and a group of psionics can stop.
My thoughts:  The animation in this one puts the Disney animators to shame.  This is the movie that introduced me to the legendary Katsuhiro Ohtomo. Great animation, great story, and great characters makes for a great movie.
Movie #2 American Psycho (2000) IMDb Summary: A wealthy New York investment banking executive hides his alternate psychopathic ego from his co-workers and friends as he escalates deeper into his illogical, gratuitous fantasies.
My thoughts:  Christian Bale shines in this one.  Highlights are the business card scene and the "Hip To Be Square" murder scene.  The ending of the movie confuses many people….but they certainly talk about it when it goes off.
Movie #3 Amelie (2001) IMDb Summary: Amelie, an innocent and naive girl in Paris, with her own sense of justice, decides to help those around her and along the way, discovers love.
My thoughts:  This movie blew me away when I first saw it.  Audrey Tautou is awesome in this one.  Quirky and fun….a movie that Wes Anderson could have written and directed.  I thought Tautou would  become this generation's Audrey Hepburn…that has not happened yet!
Movie #4 The Big Lebowski (1998) IMDb Summary: "Dude" Lebowski, mistaken for a millionaire Lebowski, seeks restitution for his ruined rug and enlists his bowling buddies to help get it.
My Thoughts:  I have seen this Coen brothers movie a few times….but have yet to figure out why people love this movie so much….but I admit this one has a huge following and it keeps getting bigger as the years pass.
Movie #5 Bottle Rocket (1996) IMDb Summary: Focusing on a trio of friends and their elaborate plan to pull off a simple robbery and go on the run.
My thoughts:  I am one of the few people to actually see this movie in theaters.  The first movie for director/writer Wes Anderson and actors Luke and Owen Wilson.  Owen's Dignan character easily steals the show.  No matter how bad things go…Dignan always has a plan.
Movie #6 Bully (2001) IMDb Summary: Based on a true story. Naive teenagers plot to murder one of their own, who has been too much of a bully to them.
Todd Gaines' Thoughts: One of Brad Renfro's best performances. Macaulay Culkin's ex-wife gets naked. Classic Larry Clark theme of graphic sex amongst teens 🙂 F word is said 274 times!
Movie #7 The 'Burbs (1989) IMDb Summary: An overstressed suburbanite and his paramilitaric neighbor struggle to prove their paranoid theory that the new family in town is a front for a cannibalistic cult.
My Thoughts: One of my favorite Tom Hanks movies. I saw it in the theaters and actually did not like it all.  However repeat viewings on VHS and DVD have changed my mind about this movie.  Best line in movie?  Classic quote: Mrs. Peterson – "He will not come out until he resembles that man that I married." Art Weingartner – "We don't have that kinda time!"
Movie #8 City of God (2002) IMDb Summary: Two boys growing up in a violent neighborhood of Rio de Janeiro take different paths: one becomes a photographer, the other a drug dealer.
My Thoughts:  You will never look at Rio de Janeiro the same after watching this movie. 15 minutes from paradise is hell on Earth.  This is the 21st highest rated movie on IMDb….it is a shame that so many people have not seen this movie.
Movie #9 The City of Lost Children (1995) IMDb Summary: A scientist in a surrealist society kidnaps children to steal their dreams, hoping that they slow his aging process.
My Thoughts:  This is a visually stunning movie and one of two Jean-Pierre-Jeunet's movies to make the list. This is a movie that seems to be heavily influenced by Terry Gilliam. It got a very limited release in the United States….but remarkably there is a PlayStation game out there based on this movie.
Movie #10 Children of Men (2006) IMDb Summary: In 2027, in a chaotic world in which women have become somehow infertile, a former activist agrees to help transport a miraculously pregnant woman to a sanctuary at sea.
My Thoughts:  This is one intense ride.  After seeing this one, I thought Clive Owen was on his way to superstardom….don't think that happened.  So many great scenes in this one…this one will have you doing some serious thinking when it ends.  I remember hoping Sir Michael Caine would pick up an Oscar® nomination for this one…but that did not happen either.
Movie #11 Clerks (1994) IMDb Summary: A day in the lives of two convenience clerks named Dante and Randal as they annoy customers, discuss movies, and play hockey on the store roof.
My Thoughts:  One of the most successful low-budget movies of all time. I remember when I discovered this movie on VHS…it was the type of movie that you felt compelled to share with all of your friends. I must have loaned out my tape over 30 times….and it always came back with glowing reviews. Jeff Anderson's Randal character steals the show as the worst retail clerk in the history of retail clerks!
Movie #12 Dazed and Confused (1993) IMDb Summary: The adventures of incoming high school and junior high students on the last day of school, in May of 1976.
My Thoughts: After hearing about this movie for years…I finally watched it about a year ago. Give me Fast Times over this one…thank you. Cult status seems to come from the soon to be famous cast….Matthew McConaughey, Ben Affleck, and Milla Jovovich.  
Movie #13 Donnie Darko (2001)  IMDb Summary: A troubled teenager is plagued by visions of a large bunny rabbit that manipulates him to commit a series of crimes, after narrowly escaping a bizarre accident.
My Thoughts:  This a strange movie that gets better with each additional viewing.  One of two Jake Gyllenhaal movies to make this list.  Look for Seth Rogen in a small role.
Movie #14 Enemy (2013)  IMDb Summary: A man seeks out his exact look-alike after spotting him in a movie.
My Thoughts:   The newest movies to make this list. I actually did not care for this one too much on my first viewing, but a quick Internet search reveals that many people not only love this movie but have spent some serious time trying to figure out what the movie is all about.  I am sure that I will enjoy my second viewing much more. This is a movie that David Lynch would love!  Added bonus: you get Jake Gyllenhaal in two roles.
Movie #15 Eyes Wide Shut (1999) IMDb Summary: A New York City doctor, who is married to an art curator, pushes himself on a harrowing and dangerous night-long odyssey of sexual and moral discovery after his wife admits that she once almost cheated on him.
My Thoughts:  I think every single Stanley Kubrick movie could be considered a cult movie…but this is the last one.  Knowing that Kubrick paid attention to every detail in his movies…ask yourself why there is a Christmas tree in almost every scene in the movie.
Movie #16 Field of Dreams (1989) IMDb Summary: An Iowa corn farmer, hearing voices, interprets them as a command to build a baseball diamond in his fields; he does, and the Chicago Black Sox come.
My Thoughts:  Not sure this movie is a cult movie?  Please realize that the baseball field built for the movie is now one of the best and maybe only tourist attraction in Iowa.  Hard to believe this movie is now over 25 years old.
Movie #17 Fight Club (1999) IMDb Summary: An insomniac office worker looking for a way to change his life crosses paths with a devil-may-care soap maker and they form an underground fight club that evolves into something much, much more.
My Thoughts: This movie's cult following has grown so quickly that many people are surprised that it crashed and burned when it was released in theaters. Sits in 10th place on IMDb's Greatest Movies list.
Movie #18 Heat (1995) IMDb Summary: A group of professional bank robbers start to feel the heat from police when they unknowingly leave a clue at their latest heist.
My Thoughts: I love this movie.  Seeing Al Pacino and Robert DeNiro together is a joy to watch.  Granted, they do not have many scenes together.  Solid support from Val Kilmer, Tom Sizemore, Jon Voight and many others….including a very young Natalie Portman.  The final shootout in the streets of Los Angeles is one of the greatest action scenes ever
Movie #19 Heathers (1988) IMDb Summary: A girl who half-heartedly tries to be part of the "in crowd" of her school meets a rebel who teaches her a more devious way to play social politics; killing the popular kids.
My Thoughts: Wow! Christian Slater get off to a great start in his career.  He pretty much does a Jack Nicholson imitation thoughout the movie…but it works in this movie.  I thought Slater was destined for greatness…instead he is the King of Straight To DVD Movies and Failed Television series….but he shines in this one.
Movie #20 High Fidelty (2000) IMDb Summary: Rob, a record store owner and compulsive list maker, recounts his top five breakups, including the one in progress.
My Thoughts: I am a huge John Cusack fan…so I am glad that he has two movies on this list.  High Fidelty is one of the best comedy dramas of the last 25 years.  Cusack is awesome….but Jack Black and Tim Robbins steal the show.  I have yet to meet the person that does not think this movie is great…..movie barely made a dent at the box office, but has developed a pretty impressive cult following over the last 10 plus years
Movie #21 Howl's Moving Castle (2004) IMDb Summary: When an unconfident young woman is cursed with an old body by a spiteful witch, her only chance of breaking the spell lies with a self-indulgent yet insecure young wizard and his companions in his legged, walking home.
Andrea R.'s Thoughts: "I don't have words to express what I felt when coming out of the cinema, Howl's Moving Castle is an absolutely fantastic film and is easily my favourite Miyazaki film."  The American version gives us Christian Bale and Billy Crystal. Is ranked 149th on IMDb's Greatest Movies chart.
Movie #22 Kids (1995) IMDb Summary: A day in the life of a group of teens as they travel around New York City skating, drinking, smoking, and deflowering virgins.
Todd Gaines' Thoughts: "Larry Clark's directorial debut. The guy who directed Spring Breakers wrote the screenplay. Characters such as Telly the Virgin Surgeon & Casper the Friendly Ghost deflower future celebs Chloe Sevigny & Rosario Dawson.
Movie #23 Kingdom of Heaven: The Director's Cut (2005) IMDb Summary: Balian of Ibelin travels to Jerusalem during the crusades of the 12th century, and there he finds himself as the defender of the city and its people.
My Thoughts:  The version that was in the theaters is ok…but when Ridley Scott released his director's cut…this movie started to develop a strong following.  Scott added almost 60 minutes of additional scenes.  The biggest winner is the lovely Eva Green as her performance really shines through in the director's cut…..plus her actions make more sense in the longer version.  Shockingly this has surpassed Gladiator as my favorite Ridley Scott movie.
Movie #24 Kiss Kiss Bang Bang (2005) IMDb Summary: A murder mystery brings together a private eye, a struggling actress, and a thief masquerading as an actor.
My Thoughts:  In my mind, this is the movie that got Robert Downey, Jr. back on the path to super stardom.  Shortly after this one was released he signed on to make Iron Man…and the rest is history.  Downey and Val Kilmer make a good team as they struggle to solve the mystery of the movie.
Movie #25 La Haine (1995) IMDb Summary: After local youth Abdel is beaten unconscious by police, a riot ensues on his estate during which a policeman loses his gun. The gun is found by Vinz who threatens he will kill a cop if Abdel dies.
Todd Gaines' Thoughts:  "Mesmerizing performance from Vincent Cassel. Cassel was actually 28 when playing a teenager in this one.  Shot in B&W. The French version of Kids.  La Haine is ranked 221st on IMDb's Greatest Movies list."
The amount of videos on this page has made it easier to read and download by having the other 25 movies on another page.  You can find the other 25 Danny Peary Cult 4 movies here. 
475 total views, 0 views today
(Visited 13,909 times)