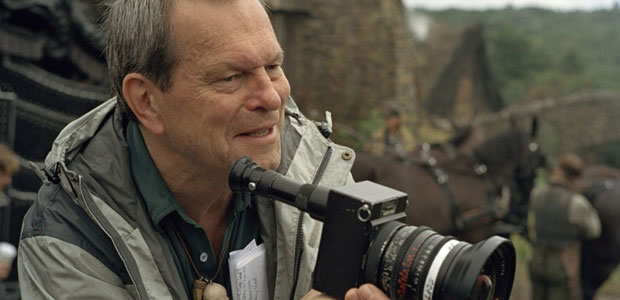 Want to know the best Terry Gilliam movies?  How about the worst Terry Gilliam movies?  Curious about Terry Gilliam's box office grosses or which Terry Gilliam movie picked up the most Oscar® nominations? Need to know which Terry Gilliam movie got the best reviews from critics and audiences and which got the worst reviews? Well you have come to the right place….because we have all of that information.
This was a horrible weekend at the Cogerson household.  Almost everybody was sick, the weather was horrible and the Denver Broncos lost.  One of the few bright spots was an early Christmas gift from one of my children.  That gift was a new book called Gilliamesque: A Pre-posthumous Memoir.  It almost made being in bed all weekend bearable.  So now that the household is back up and running around singing Disney songs…I figured I should do a movie page on one of my favorite directors…Mr. Terry Gilliam.
Gilliam's IMDb page shows over 100 credits since 1968. This page will rank 15 Terry Gilliam movies from Best to Worst in six different sortable columns of information. Television shows, cameos and movies not released in North America were not included in the rankings.  The 15 movies that are ranked include all 13 Gilliam directed movies and two Monty Python that he helped write and and appeared in as an actor.

Terry Gilliam Movies Can Be Ranked 6 Ways In This Table
The really cool thing about this table is that it is "user-sortable". Rank the movies anyway you want.
Sort Terry Gilliam movies by co-stars of his movies.
Sort Terry Gilliam movies by adjusted domestic box office grosses using current movie ticket cost (in millions)
Sort Terry Gilliam movies by yearly domestic box office rank
Sort Terry Gilliam movies how they were received by critics and audiences.  60% rating or higher should indicate a good movie.
Sort by how many Oscar® nominations each Terry Gilliam movie received and how many Oscar® wins each Terry Gilliam movie won.
Sort Terry Gilliam movies by Ultimate Movie Rankings (UMR) Score.  UMR Score puts box office, reviews and awards into a mathematical equation and gives each movie a score.
R
Movie (Year)
UMR Co-Star Links
Adj. B.O. Worldwide (mil)
Review
Oscar Nom / Win
UMR Score
R
Movie (Year)
UMR Co-Star Links
Actual B.O. Domestic (mil)
Adj. B.O. Domestic (mil)
Adj. B.O. Worldwide (mil)
B.O. Rank by Year
Review
Oscar Nom / Win
UMR Score
S
1
Time Bandits (1981)
Sean Connery &
Ralph Richardson
42.40
131.8
131.80
11
82
00 / 00
90.6
2
Twelve Monkeys (1995)
Bruce Willis &
Brad Pitt
57.10
113.6
335.70
31
83
02 / 00
90.1
3
The Fisher King (1991)
Robin Williams &
Jeff Bridges
41.90
86.1
86.10
30
76
05 / 01
86.8
4
Monty Python and the Holy Grail (1975)
16.30
68.7
68.70
39
91
00 / 00
86.4
5
Life of Brian (1979)
Monty Python Players
19.40
66.9
66.90
45
85
00 / 00
83.2
6
Brazil (1985)
Robert DeNiro &
Bob Hoskins
9.90
24.2
24.20
85
89
02 / 00
79.0
7
The Meaning of Life (1983)
Monty Python Players
14.90
41.0
41.00
48
79
00 / 00
73.6
8
The Adventures of Baron Munchausen (1988)
Robin Williams &
Uma Thurman
8.10
17.0
17.00
100
79
04 / 00
69.1
9
Monty Python's And Now for Something Completely Different (1971)
Monty Python Players
1.30
6.8
6.80
92
81
00 / 00
63.3
10
The Imaginarium of Doctor Parnassus (2009)
Christopher Plummer &
Heath Ledger
7.70
8.9
71.30
148
66
02 / 00
43.4
Stats and Possibly Interesting Things From The Above Terry Gilliaml Table
Two Terry Gilliam movies crossed the magical $100 million domestic gross mark.  That is a percentage of 13.33% of his movies listed. Time Bandits (1981) is his biggest box office hit.
An average Terry Gilliam movie grosses  $38.90 million in adjusted box office gross.
Using RottenTomatoes.com's 60% fresh meter.  11 Terry Gilliam movies are rated as good movies…or 73.33% of his movies.  Brazil (1985) is his highest rated movie while Tideland (2006) is his lowest rated movie.
Five Terry Gilliam movies received at least one Oscar® nomination in any category…..or 33.33% of his movies.
One Terry Gilliam movie won at least one Oscar® in any category…..or 6.66% of his movies.
An average Ultimate Movie Rankings (UMR) Score is 39.86.  5 Terry Gilliam movies scored higher that average….or 33.33% of his movies.   Twelve Monkeys (1995) got the the highest UMR Score while  got the lowest Tideland (2006) UMR Score.
Ten Possibly Interesting Facts About Terry Gilliam
1. Terry Gilliam was born in Minnesota in 1940.

2. Terry Gilliam was a part of Monty Python's Flying Circus from its outset, at first credited as an animator (his name was listed separately after the other five in the closing credits), later as a full member.

3. Terry Gilliam has directed three actors in Oscar®-nominated roles; Brad Pitt (Twelve Monkeys (1995)), Robin Williams, and Mercedes Ruehl (The Fisher King (1991)). Ruehl won her Oscar for Best Supporting Actress.

4.  Terry Gilliam has been married to British make-up and costume designer Maggie Weston since 1973.  They have three children.
5.  Terry Gilliam was J.K. Rowlings' first choice to direct Harry Potter and the Sorcerer's Stone (2001).  Warner Brothers went with Chris Columbus.

6.  Terry Gilliam also turned down the opportunity to direct Who Framed Roger Rabbit (1988), Enemy Mine (1985), and Forrest Gump (1994) and Alien: Resurrection (1997).
7. Terry Gilliam has been nominated for one Oscar®.  He was nominated for Best Screenplay for 1985's Brazil
8. There are two excellent documentaries that cover how Terry Gilliam directs his movies.  The first is called The Hamster Factor and Other Tales of Twelve Monkeys which shows how Twelve Monkeys was made and the second is called Lost in La Mancha which is about Terry Gilliam's unfinished film The Man Who Killed Don Quixote.  Both are highly recommended viewings.

Check out Terry Gilliam's career compared to current and classic actors.  Most 100 Million Dollar Movies of All-Time.
Academy Award® and Oscar® are the registered trademarks of the Academy of Motion Arts and Sciences.  Golden Globes® are the registered trademark of the Hollywood Foreign Press.
229 total views, 0 views today
(Visited 4,568 times)