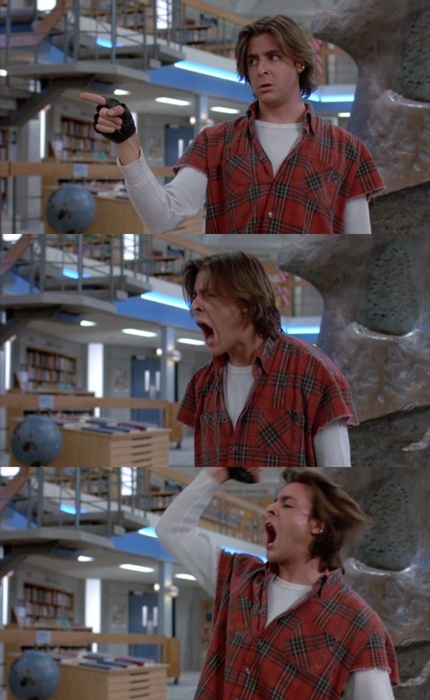 Want to know the best Judd Nelson movies?  How about the worst Judd Nelson movies?  Curious about Judd Nelson box office grosses or which Judd Nelson movie picked up the most Oscar® nominations? Need to know which Judd Nelson movie got the best reviews from critics and audiences and which got the worst reviews? Well you have come to the right place….because we have all of that information.
Judd Nelson (1959-) is an American film and television actor.  His IMDb page shows 112 acting credits from 1983-2017. This page ranks 15 Judd Nelson movies from Best to Worst in six different sortable columns of information. Television shows, shorts, video games, documentaries and his many movies not released in North American theaters were not included in the rankings.

Drivel Part of the Page:  I admit it.  I was a huge Judd Nelson fan back in the day.  Me and my friends watched Making the Grade, Fandango and The Breakfast Club all the time back when we were in high school.  Heck back in my video store days….I recommended Nelson's Blue City all the time….even though one review of that movie said…."It appears to have been edited with a chainsaw".  So after spending days working on Ray Milland, I figured I would do a page on one of my favorites of yesteryear.
Judd Nelson Movies Can Be Ranked 6 Ways In This Table
The really cool thing about this table is that it is "user-sortable". Rank the movies anyway you want.
Sort Judd Nelson movies by co-stars of his movies.
Sort Judd Nelson movies by adjusted domestic box office grosses using current movie ticket cost (in millions)
Sort Judd Nelson movies by domestic box office rank
Sort Judd Nelson movies how they were received by critics and audiences.  60% rating or higher should indicate a good movie.
Sort by how many Oscar® nominations each Judd Nelson movie received and how many Oscar® wins each Judd Nelson movie won.
Sort Judd Nelson movies by Ultimate Movie Rankings (UMR) Score.  UMR Score puts box office, reviews and awards into a mathematical equation and gives each movie a score.
Use the search and sort button to make this page very interactive.
Stats and Possibly Interesting Things From The Above Judd Nelson Table
One Judd Nelson movie crossed the magical $100 million domestic gross mark.  That is a percentage of 6.67% of his movies listed. The Breakfast Club (1985) is his biggest box office hit.
An average Judd Nelson movie grosses  $30.10 million in adjusted box office gross.
Using RottenTomatoes.com's 60% fresh meter.  7 Judd Nelson movies are rated as good movies…or 46.66% of his movies.  The Breakfast Club (1985) is his highest rated movie while Steel (1997) is his lowest rated movie.
Zero Judd Nelson movies received at least one Oscar® nomination in any category…..or 0.00% of his movies.
Zero Judd Nelson movies won at least one Oscar® in any category…..or 0.00% of his movies.
An average Ultimate Movie Rankings (UMR) Score is 40.00.  2 Judd Nelson movies scored higher that average….or 13.33% of his movies.  The Breakfast Club (1985) got the the highest UMR Score while Steel (1997) got the lowest UMR Score.
Possibly Interesting Facts About Judd Nelson

1. Judd Asher Nelson was born in Portland, Maine in 1959.
2. Judd Nelson attended the prestigious Haverford College in Pennsylvania.

3. Judd Nelson studied acting under Stella Adler.

4. The character of Nelson Muntz on the animated series The Simpsons was said to be named after Nelson in honor of his portrayal of John Bender in The Breakfast Club.
5. Was one of the nine original members of the 1980s "brat pack", along with Andrew McCarthy, Mare Winningham, Anthony Michael Hall, Demi Moore, Rob Lowe, Molly Ringwald, Emilio Estevez and Ally Sheedy
6. Judd Nelson and Breakfast Club Trivia 1:  Nelson and John Hughes did not get along during the film of that now classic movie.  At one point Hughes almost fired Nelson.  Their conflict is one of the reasons a Breakfast Club 2 never got made.
7. Judd Nelson and Breakfast Club Trivia 2:  At the very closing part of the film where Bender raises his fist in defiance, that was actually ad libbed. He was supposed to just walk into the sunset, so to speak, and John Hughes asked him to play around with a few actions. When he was done and they were finishing up, Nelson threw his fist up without running it by anyone. Everyone loved it, and it has become an iconic symbol of the 1980's.
8. Judd Nelson and Breakfast Club Trivia 3:  John Cusack and Nicolas Cage were the first choices for the John Bender role.
9. Judd Nelson received a Best Actor Golden Globe® nomination for the mini-series…The Billionaire Boys Club (1987).
10. Check out Judd Nelson's career compared to current and classic actors.  Most 100 Million Dollar Movies of All-Time.
Academy Award® and Oscar® are the registered trademarks of the Academy of Motion Arts and Sciences.  Golden Globe® is a registered trademark of the Hollywood Foreign Press.
273 total views, 0 views today
(Visited 9,048 times)