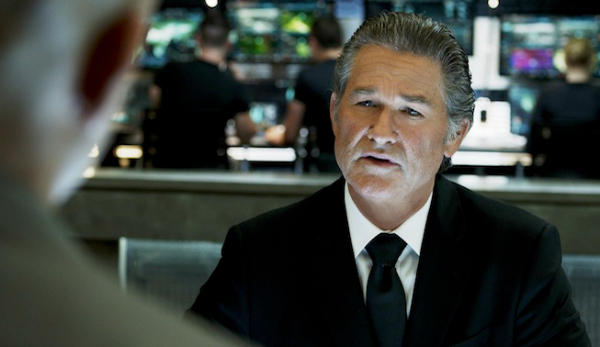 Want to know the best Kurt Russell movies?  How about the worst Kurt Russell movies?  Curious about Kurt Russell's box office grosses or which Kurt Russell movie picked up the most Oscar® nominations? Need to know which Kurt Russell movie got the best reviews from critics and audiences? Well you have come to the right place….because we have all of that information.
Kurt Russell (1951-) started in the entertainment business in the early 1960s. Starting out in television, he spent his youth making movies with people like Elvis Presley in It Happened At The World's Fair and James Stewart in Fools' Parade. Seeing the talent Russell had, Walt Disney signed him to a 10 year contract with Disney and he became one of the top stars for Disney in the 1970s.  After 18 years of acting Kurt Russell left Hollywood and became a professional baseball player. He signed with California Angels and made it to their Double A team before an injury ended his career. At this point he returned to his acting career.
His IMDb page shows 94 acting credits since 1962.  This page will rank 47 of his movies from Best to Worst in four different sortable columns of information. Cameos, television appearances, straight to DVD movies and shorts were not included in the rankings.
Kurt Russell Movies Can Be Ranked 6 Ways In This Table
The really cool thing about this table is that it is "user-sortable". Rank the movies anyway you want.
Sort by Kurt Russell movies by co-stars of his movies.
Sort Kurt Russell movies by actual box office grosses
Sort Kurt Russell movies by adjusted domestic box office grosses using current movie ticket cost (in millions)
Sort Kurt Russell movies by adjusted worldwide box office grosses using current movie ticket cost (in millions)
Sort Kurt Russell movies how they were received by critics and audiences.  60% rating or higher should indicate a good movie.
Sort by how many Oscar® nominations and how many Oscar® wins each Kurt Russell movie received.
Sort Kurt Russell movies by Ultimate Movie Rankings (UMR) Score.  UMR Score puts box office, reviews and awards into a mathematical equation and gives each movie a score.
Use the search and sort buttons to make this page very interactive.
Stats and Possibly Interesting Things From The Above Kurt Russell Table
11 of Kurt Russell's movies crossed the magical $100 million mark.  That is a percentage of 24.44% of his movies listed.  His domestic top box office hit is Furious 7 (2015).
An average Kurt Russell movie grosses $70.10 million in adjusted box office gross.
Using RottenTomatoes.com's 60% fresh meter.  24 of Kurt Russell's movies are rated as good movies…or 53.33% of his movies.  His highest rated movie is The Thing (1982).  His lowest rated movie is Tango and Cash (1989)….OUCH! I like that movie.
7 of Kurt Russell's movies received at least one Oscar® nomination in any category…..or 15.55% of his movies.
1 of Kurt Russell's movie won at least one Oscar® in any category…..or 2.22% of his movies.
An average Ultimate Movie Ranking (UMR) Score is 39.86.  19 of Kurt Russell's movies scored higher that average….or 42.22% of his movies.  Furious 7 (2015) got the highest UMR Score….The Best of Times (1986) got the lowest UMR Score.
Possibly Interesting Facts About Kurt Russell
1.  Kurt Russell was born in 1951 in Springfield, Massachusetts.  He is the son of actor Bing Russell.

2   One of Kurt Russell's first movie appearances was when he kicked Elvis Presley in the shins in 1963's It Happened At The World's Fair.
3.  Kurt Russell was signed to a 10 year contract with Disney by Walt Disney himself.
4.  When Walt Disney passed away the Disney people found one of his last memos that he ever wrote on his desk.  It read:  "Kirt Russell……CIA-Mobley".
5.  Kurt Russell played minor league baseball for California Angels.  He suffered a career ending shoulder injury in 1973.  He was hitting over .500 in Double A when the injury occured.  I think his backup plan worked out ok though.
6.  Kurt Russell and his many Elvis connections.  He kicked Elvis in It Happened At The World's Fair.  He picked up an Emmy nomination playing Elvis in the television movie Elvis (1979).  He provided the voice of Elvis in 1994's Forrest Gump.  He played Elvis' possible son in 2001's 3000 Miles to Graceland.
7.  Kurt Russell has been married once (1979-1983) to actress Season Hubley.  Hubley and Russell made one movie together….1981's Escape From New York….she was the girl that got sucked into the floor in that movie.  They have one son, Boston Russell.
8.  Kurt Russell first met Goldie Hawn when they were making 1968's The One and Only, Genuine, Original Family Band.  They fell in love while making 1983's Swing Shift.  They have been a couple ever since.  They have one son, Wyatt Russell.  Wyatt was most recently seen in the blockbuster hit 22 Jump Street (2014).  Russell is the step father to actress Kate Hudson and actor Oliver Hudson.
9.  Kurt Russell roles turned down or was seriously considered for:  Jurassic Park (Sam Neill part), Bull Durham (part was written for him but studio wanted Kevin Costner),  Star Wars (Harrison Ford part), The Sound of Music (one of von Trapp kids), Batman Forever (Val Kilmer part), Flash Gordon (Flash role) and Splash (Tom Hanks part).
10.  Kurt Russell was one of the first actors to do DVD commentaries.  His commentary along with John Carpenter on The Thing is worth checking out.
Check out Kurt Russell's career compared to current and classic actors.  Most 100 Million Dollar Movies of All-Time.
Academy Award® and Oscar® are the registered trademarks of the Academy of Motion Arts and Sciences. Golden Globes® are the registered trademark and service mark of the Hollywood Foreign Press.
If you do a comment….please ignore the email address and website section.
419 total views, 0 views today
(Visited 37,840 times)